Best Insurance Companies for
Medicare Advantage 2019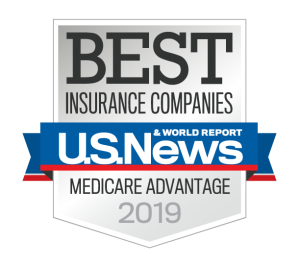 Medicare eligible beneficiaries can enroll in a Medicare Advantage plan from a private insurance company instead of choosing Original Medicare Parts A and B. U.S. News provides a tool for Medicare-eligible beneficiaries to find the best Medicare plans for their needs. All plan information and star ratings come directly from the Center for Medicare and Medicaid Services (CMS) at Medicare.gov.
U.S. News analyzed insurance companies' offerings in each state based on their CMS star ratings, and below provides a list of the Best Insurance Companies for Medicare Advantage. A Best Insurance Company for Medicare Advantage is defined as a company whose plans were all rated as at least three stars by CMS and whose plans have an average rating of 4.5 or more stars within the state. Read more about our methodology.
Other insurance companies have 5-star rated plans. Anyone researching Medicare Advantage plans should compare individual plans offered in their service area.
Every Year, Medicare evaluates plans based on a 5- star rating system. This is not a complete listing of plans available in your service area. For a complete listing please contact 1-800- MEDICARE (TTY users should call 1-877- 486-2048), 24 hours a day/7 days a week or consult www.medicare.gov.
https://health.usnews.com/health-news/best-medicare-plans/best-insurance-companies-for-medicare-advantage-plans
Additional Updates: