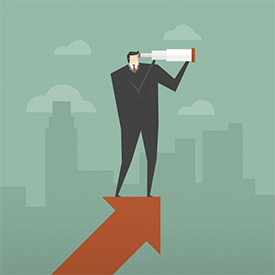 The Future of Medicare Supplement - 7th Annual Market Projection Report
The Medicare Supplement market continues to offer long-term sustainability. Just over 75 million individuals are expected to be enrolled in the Medicare program by 2026 (a 32% increase over 2016). This means that by 2026 roughly 20 million more individuals will be added to the Medicare program with another 10 million being added by 2035.
CSG Actuarial research indicates Medicare Supplement enrollments will continue to grow markedly over the next 10 years, creating ever-increasing opportunities for insurance carriers, agents, and marketing organizations in the Medicare Supplement market (Graph 1).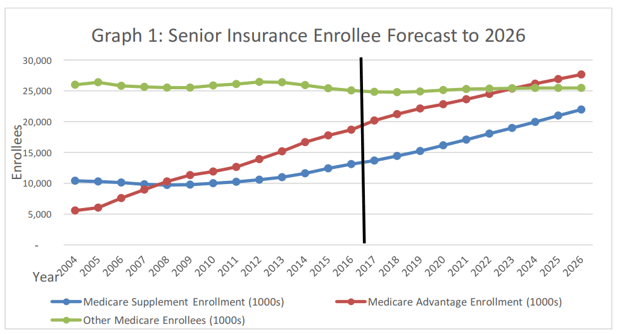 Methodology
There is a minimal amount of information available regarding Medicare Supplement market projections. CSG Actuarial has compiled data from various sources and developed actuarial models to project future Medicare Supplement enrollments and premium levels over the next 10 years.
Current Medicare Eligibility Assessment
To determine how the Medicare Supplement market is expect to grow over the next 10 years, we first evaluated the current Medicare population using the following demographic factors:
Age, gender, Eligibility Status, Income Level, Health Status, Area of Residence, Living Arrangement, Plan Type (Medicare Supplement, Medicare Advantage, Other)
Key Observations:
The Medicare Supplement market has a substantially lower proportion of disabled insureds than the Medicare Advantage market.
Income distribution among products shows that Medicare Supplement plans typically appeal to insureds with higher annual income on average.
The proportion of rural insureds who have a Medicare Supplement plan is significantly higher than the proportion of rural insureds who have a Medicare Advantage plan.
The Medicare Supplement market has a higher proportion of healthier individuals compared to the Medicare Advantage market.
About 70% of all Medicare Supplement beneficiaries live with someone else. The majority of carriers selling Medicare Supplement today offer some version of the household discount.
Historical Medicare Supplement Assessment
To project the future of the Medicare Supplement market, we started by evaluating historical trends. Medicare Supplement policies in-force and premiums have rebounded the past nine years, fueled by an increase in annualized new premiums, which are up 91% since 2008. The increase in annualized new business premiums resulted in a leveling of the Medicare Supplement market penetration percentage from 2009-2013, followed by an increase in each year thereafter. In fact, the percentage of Medicare Beneficiaries who own a Medicare Supplement product increased 0.9 percent from 2014 to 2015, followed 0.8 percent from 2015 to 2016.
The growth in the Medicare Supplement market during the past nine years can mostly be attributed to three things:
The number of Medicare beneficiaries has grown by about 25% since 2008.
Growth in the Medicare Advantage program has slowed, which left more lives in traditional Medicare with the need to purchase a Medicare Supplement plan. The average growth rate for Medicare Advantage plans over the past eight years is less than half the Medicare Advantage growth rate over the previous three years and has coincided with an increase in the Medicare Supplement growth rate over that same time period. The 2016 Medicare Advantage growth rate of 5.1% is the lowest growth rate since 2010.
Employers have continued to remove Medicare-aged retirees from their employer health plans, with some providing them with a stipend to purchase individual coverage. Due to this, the percentage of Medicare beneficiaries not in Medicare Advantage or Medicare Supplement plans has declined dramaticallyin the last 10 years
As a result, the annual growth rate of Medicare Supplement beneficiaries has been at its highest rate in recent years coming in at 6.9% in 2015, followed by 5.8% in 2016. At the same time, the Medicare Advantage annual growth rate of beneficiaries dropped to 6.8% in 2015, followed by 5.1% in 2016, bringing the growth rate of Medicare Supplement and Medicare Advantage closer than it's ever been.
Current Market Activity and Possible Impacts to Future Medicare Supplement Consolidation
As of last year's report, Aetna's proposed acquisition of Humana, and Anthem's proposed acquisition of CIGNA were both getting increased regulatory scrutiny, with the U.S Justice Department suing to block the acquisition attempts citing concerns that the mergers would increase health-care costs and simultaneously reduce choice for consumers.
Since that time, Aetna's proposed acquisition of Humana, and Anthem's proposed acquisition of CIGNA have both been called off.
CSG Actuarial does not believe any potential merger consolidation will negatively impact the growth in the market. Based on our market perspective, at least 10 new carriers have entered or are in the process of entering the Medicare Supplement market in the last two years. We expect there will continue to be new carriers entering the market based on the favorable demographics, cost effective TPA solutions, sophisticated distribution options and reinsurers actively looking for new partnership opportunities.
Cost Sharing Plans and First Dollar Coverage
As commonly reported, Plans G and N continue to grow and grab market share in the overall Medicare Supplement market. In 2016, Plans G and N made up over 19% of the lives in the Medicare Supplement market, up from only 5% in 2010. A large portion of the growth in market share for Plans G and N is at the expense of non "first dollar coverage" plans, as can be seen in Graph 2.
Using data from the NAIC, CSG Actuarial grouped the Medicare Supplement lives for
2010 to 2016 into 4 categories:
Plans covering first dollar benefits (Plans C, F, and J)
Plans in Grandfathered States
Plans G and N
All Other Plans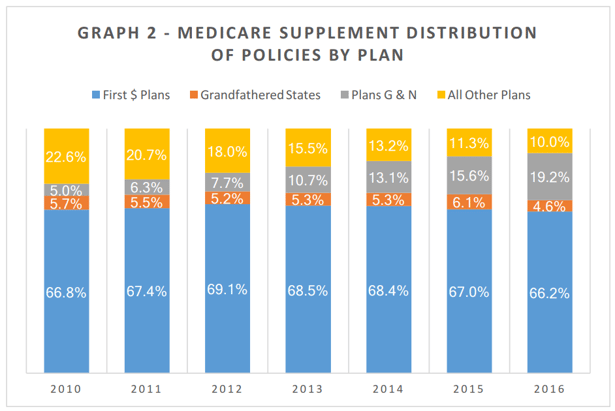 Conclusions
Recent results and future projections continue to suggest the Medicare Supplement market offers very strong opportunities for growth for carriers, marketing organizations, and agents. As covered in detail in this paper, some of the primary drivers of this future growth and opportunity will be 1) the overall growth in Medicare, 2) a decrease in Retiree Health Benefits, and 3) slowed growth in the Medicare Advantage program when compared to early years of Medicare Advantage.
As the number of Medicare Beneficiaries continues to grow, from 57 million in 2016 to 75 million in 2026, it is becoming clear that those same individuals will increasing turn to private insurance (both Medicare Advantage and Medicare Supplement) to help cover their insurance needs. While some individuals will continue to receive Retiree Health Benefits, get coverage through Medicaid, or choose Traditional Medicare Coverage without any sort of supplemental coverage, these individuals will increasingly make up a smaller and smaller proportion of the total Medicare Beneficiaries.
Beyond those primary drivers, CSG Actuarial believes other factors such as overall market stability and low barriers to market entry will also contribute to the future growth in the Medicare Supplement market. Stability in the market in recent years has been driven by lower claim trends that have led to lower annual premium rate increases and higher company profits. Low barriers to entry in the Medicare Supplement market are a result of numerous experienced TPAs, distributors and re-insurers available to provide support as needed for new companies wishing to enter the Medicare Supplement market. Adding it all up, CSG Actuarial believes future growth trends within the Medicare Supplement market continue to be very positive.
Source: https://storage.googleapis.com/csg-actuarial-wordpress.appspot.com/2017-Medicare-Supplement-Market-Projection-FINAL.pdf

Helping Those in the Lone Star State:
Reach out through www.redcross.org, 1-800-RED-CROSS,
or make a $10 donation by texting HARVEY to 90999.
Additional Updates: