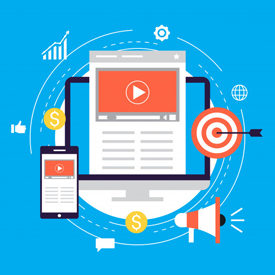 The Definitive Digital Marketing Handbook for Medicare Agents
If you sell Medicare products and you have a website, this is an insightful on how to effectively market your business.
We live in a digital world. The signs of people's ever-increasing passion for digital communications are all around us.
Digital has become woven into everyday life, yet, most Medicare Agencies don't have a sound digital marketing strategy. KERN Health's informal polls at the Medicare Marketing & Sales Summits in Orlando and Nashville suggest that most (65%) of Medicare Agencies felt that their organizations were struggling and were unprepared to develop a digital marketing strategy.
According to Pew Research Center, 76% of older (leading-edge) Boomers (ages 60–69) use the Internet daily. Even the Silent generation (ages 70–87) now has an adoption rate of 61% who use the Internet. And when we look at the younger (trailing-edge) Boomers (ages 51–59), we see the handwriting on the wall for the future of Medicare marketing—with only 17% of this group not using the Internet daily. Furthermore, 84.9% of Boomers and Medicare beneficiaries are sharing information, talking about politics and engaging on Facebook.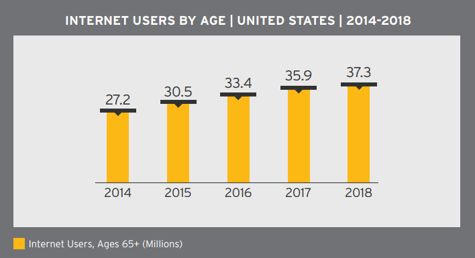 So think digitally. Because your competitors already are. Up until now, some brave Medicare Agencies have dared to peel a portion of the budget away from the traditional workhorse channel of direct mail to experiment with digital, but they've done so in very limited ways. When you understand just how much Boomers and Medicare beneficiaries are utilizing digital channels, you'll see why there's the urgent need to do more.
1 in 5 of Twitter users are over 50

53% (percentage of Americans 65+ who use the Internet, and 70% of those use the Internet daily)

27 hours per week (average amount of time Boomers spend on the Internet)

48% (percentage of adults 65+ who own a desktop computer)

63% (percentage of adults 50–64 who own a desktop computer)

27.4 million (number of adults 55+ who engage in social networking to communicate)

1 in 3 of online Boomers use social media

59% (percentage of online Boomers who have made an online purchase within the last 3 months)

80% (adults 50+ account for 80% of all online luxury travel spending)

$7 billion (average annual amount spent online by adults 50+)
And when we're speaking about digital, more than half of what we're speaking about is mobile. According to a 2016 Pew Research Center report, mobile now accounts for more than half of all digital advertising spending, while digital ad spending grew from $43 billion in 2013 to over $60 billion just two short years later.
Hopefully this guide will provide insight and best practices on how to make sure your website and marketing efforts are optimized in the new digital age of the senior market.
Source: https://www.slideshare.net/scottbrianlevine/the-definitive-digital-marketing-handbook-for-medicare-marketers
Additional Updates: