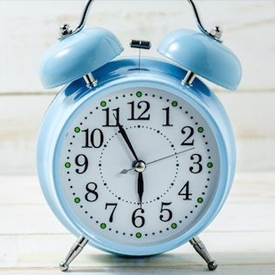 The Best Time to Make a Sales Call in 2017
Most salespeople are eager to know the best time to cold call their prospects. It's an enticing idea: Rather than waiting for a compelling event, researching the buyer, and crafting a personalized message, the rep simply needs to know the best day for cold calling, as well as the best time of day.
Unfortunately for legacy salespeople, this approach doesn't work anymore. An oft-cited study from the Keller Research Center at Baylor University shows only 1% of cold calls ultimately generate appointments.
The takeaway is, the "best time to make cold calls" doesn't exist. But it's a different story for warm calls. If you've done your homework and identified a potential good fit, knowing when to pick up the phone can mean the difference between getting the prospect's voicemail -- and getting a meeting.
Five suggestions for when to call buyers in 2017
1) The Best Day for Sales Calls
A study conducted by LeadResponseManagement.org revealed Wednesdays and Thursdays are the best days of the week to call prospects.
This finding isn't completely surprising. After all, people are usually gearing up for the weekend on Friday and aren't interested in starting a relationship with a salesperson.
On Monday, buyers are transitioning into work mode and planning their upcoming week.
By the middle of the week, people have had enough time to settle into their working week and take care of pressing matters, without your call feeling like an interruption.
2) The Best Morning Time for Sales Calls
Making an early morning sales call lets you connect with prospects before their to-do lists become overwhelmingly long. But timing is still important -- call too early, and no one will answer. Call too late, and your prospects will be busy.
The same LeadResponseManagement.org study found morning sales calls are most productive between the hours of 8 and 9 a.m..
3) The Worst Time of the Day for Sales Calls
What are most prospects doing between 11 a.m. and 2 p.m.? That's right: Eating lunch.
For this reason, reps have the lowest contact rates during lunchtime. Use this time instead to research prospects and prepare for your afternoon calls. (And of course, having lunch yourself.)
4) The Best Afternoon Time for Sales Calls
Reps see the highest engagement rates of the day between 4 and 5 p.m. Most prospects are tying up their projects for the day. This is a great moment to pick up the phone and give your buyer a call. With important work out of the way, your prospective clients will more time to chat and listen to what you have to offer.
5) Call inbound leads within five minutes of receipt
Seeing leads come in is always exciting for sales reps, but the time it takes you to respond to these prospects is crucial. From the same study conducted by LeadResponseManagement.org, the timing of the response played a big part in the success of making contact and qualifying.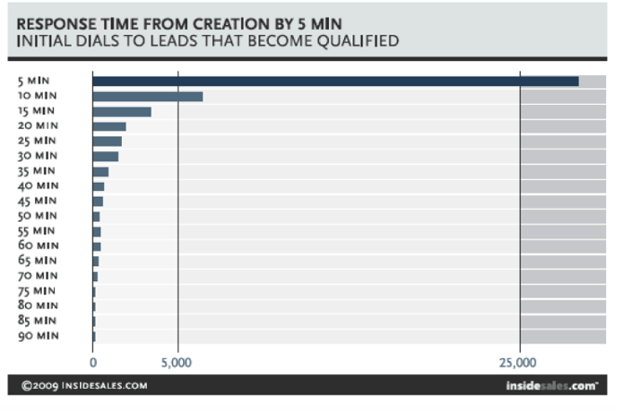 The graph above demonstrates how a response time of no more than five minutes after receipt results in a much higher number of qualified leads. After 10 minutes, the number of leads qualified significantly decreases, which shows a quick response will return the best results.
Ultimately, picking the right time to make your sales calls is essential to sales success. While these five rules of thumb are a good place to start, you may find that different strategies work better for your business. Test these approaches and adopt the ones that work for you. You might be surprised to find how many more prospects you can reach with a few simple tweaks.
Source: https://blog.hubspot.com/sales/best-time-to-make-a-sales-call#sm.0001p7m1y6w8fd97rw82gfhx09h25
Additional Updates:
New - Competitive Med Supp rates in Texas and Florida with Aetna

-

Request Details

Register for UnitedHealthcare's Annual Online Agent Symposium

-

View

Thrivent Medicare Supplement released in Maryland

-

Request Details

Express: Mutual of Omaha weekly product updates

-

View

VALUES Quote of the week

-

View

Skyrocket your Med Supp sales by selling online

-

View
Free Med Supp online quoting tool for PSM agents -

View