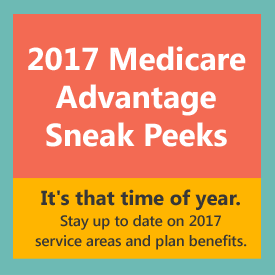 The AEP is right around the corner and there are some exciting opportunities on the horizon for 2017.
Make sure you are up to date with the latest information including expansion areas (available now for select carriers), plan designs (coming soon) and certification announcements.Join our update list today or call one of our marketing representatives at 800-998-7715 for the latest information.
As an added value, we are providing a discount on AHIP training for being a part of our team. Click on the link below to access the details.
Updates Include:
Service area expansions and reductions from current companies
Sneak Peeks at pricing and benefit information
Comparison tools and lead generation ideas
Certification announcements - AHIP Discount for PSM Agents
Bonus: CMS also just released some great news for Medicare Advantage and PDP commission rates for 2017 and they are the highest ever! Details located here.
More exciting details to come and we look forward to being your one-stop-shop for all your Medicare needs this enrollment season.
Additional Updates: