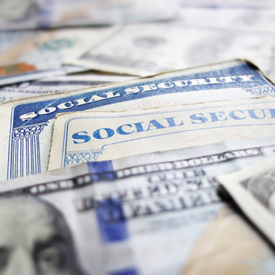 The Social Security Retirement Age Increases in 2018
Most baby boomers are eligible to claim their full Social Security benefit at age 66. However, Americans who will turn 62 in 2018 need to delay claiming Social Security for an additional four months in order to claim their full benefit. Here is how the Social Security full retirement age is changing and what it means for your retirement payout:
Read: Social Security Changes Coming in 2018
An older retirement age. Americans who will turn 62 in 2018 (born in 1956) will need to wait until age 66 and four months to claim their full Social Security retirement benefit. That's two months longer than those who turned 66 in 2017 and four months longer than older baby boomers born between 1943 and 1954 who have a full retirement age of 66.
The full retirement age will continue to increase in two-month increments each year until it hits 67 for everyone born in 1960 or later. "Those born in 1956 will get less per month at any age that they start Social Security than people one and two years older than them," says John Shoven, an economics professor at Stanford University. "If you start benefits before the full retirement age, you have to accept a permanent discount in your monthly benefits, and if you start benefits after the full retirement age you get more."
Bigger reductions for claiming early. If your full retirement age is 66 and you start your Social Security benefit at age 62, you get 25 percent smaller payments. "Raising the full retirement age by two months means you get about 1.1 percent less at 62," says Andy Landis, author of "Social Security: The Inside Story". "To counteract that, consider delaying your Social Security by a few months, or even later for higher payments." For example, a worker eligible for $1,000 per month from Social Security at his full retirement age of 66 would get only $750 per month if he starts payments at age 62. Those with the slightly older full retirement age of 66 and 4 months will get about 27 percent smaller payments if they sign up at age 62, which would reduce a $1,000 Social Security payment to about $730. Once the full retirement age increases to 67, those who start payments at age 62 will get 30 percent smaller payments.
Read: How to Undo Claiming Social Security Early
A smaller incentive to delay claiming. Workers who delay claiming Social Security between their full retirement age and age 70 have an opportunity to increase their monthly payments. "No one should claim without analyzing the options," says Anna Rappaport, chairwoman of the Society of Actuaries Committee on Post-Retirement Needs and Risks. "People who live long will have a benefit of greater value if they claim at higher ages."
However, those with an older retirement age have slightly less to gain by waiting. Baby boomers with a full retirement age of 66 can increase their monthly payments by as much as 32 percent by waiting until age 70 to start payments, which would boost a $1,000 benefit to $1,320 per month. Those with a full retirement age of 67 will only get 24 percent more if they delay claiming Social Security payments until age 70.
Compare your options. Retirees who claim Social Security early get smaller payments over a longer period of time. Those who delay claiming get bigger payments later on in retirement. The optimal age to sign up for Social Security ultimately depends on how long you and your spouse will live. People who live the longest have the most to gain by delaying claiming Social Security. You can get a personalized estimate of how much you will receive from Social Security at various claiming ages by creating a My Social Security account. "Everyone should have a My Social Security account so you have online access anytime, just like at your bank," Landis says. "You'll get not just your full retirement age, but a record of your earnings, a way to correct the record, if wrong, and you'll get estimates of your future payments."
Read: What is the Maximum Possible Social Security Benefit?
Medicare eligibility remains the same. While the Social Security full retirement age is increasing, the age for Medicare eligibility is unchanged. Workers who wait until 66 or later to sign up for Social Security still need to take care to sign up for Medicare at age 65 or maintain other health insurance based on current employment to avoid Medicare late enrollment penalties. "Be sure to contact Social Security a few months before 65 to learn your Medicare options," Landis says. "You don't want to pay late fees because you waited too long."
Source: https://money.usnews.com/money/retirement/social-security/articles/2018-02-12/the-social-security-retirement-age-increases-in-2018
Additional Updates: