Scope of Appointment Documentation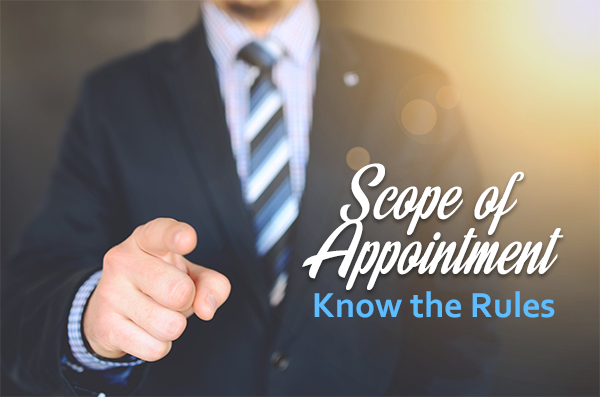 What is the Purpose of a Scope of Appointment form?
The scope of appointment is a CMS requirement used to document an in person appointment witch a beneficiary to ensure that no other types of products are discussed outside of what the beneficiary originally requested.
Below is some information regarding the rules and requirements regarding Scope of Appointments ("SOAs").
A paper or electronic Scope of Appointment must be completed prior to conducting a sales presentation for Medicare Advantage (MA) and Prescription Drug Plans (PDP).
Also, sales presentations are required to be by appointment only and should not be made by marketing through unsolicited direct contact.


Steps to completing a Medicare Scope of Appointment Form (SOA):
Remember, the SOA must be documented for all marketing activities, in-person and telephonically, including walk-ins to an agent or broker office.



The SOA must be completed prior to the appointment and may be a signed hard copy or telephonic recording.



You may not market health care related products beyond the scope that the beneficiary agreed upon prior to the meeting.



For carriers that accept electronic Scopes of Appointment, refer to each carrier's specific guidelines regarding eSOAs.



A new SOA will be required if, during an appointment, the beneficiary requests information regarding a different plan type than previously agreed upon.



Each Medicare-eligible beneficiary present at the marketing appointment (or their authorized representative) must complete an SOA prior to an MA or PDP plan presentation.



Be sure to submit the SOA or the Voice Recorded Appointment ("VRA") confirmation number at the time the application is submitted.



If you make a mistake when completing the SOA, the error should be crossed out and initialed, preferably by the beneficiary acknowledging the error. You cannot use white-out on an SOA.



Following a formal or an informal event, it is necessary to complete an SOA prior to an in-home visit.



You cannot discuss non-health products until 48 hours after the Medicare Advantage appointment.

Cross Selling:

Under no circumstances can you discuss and/or complete an application for a non-health product; e.g., life insurance or annuity at the time of a Medicare Advantage or Part D enrollment.
Returning a minimum of 48 hours later allows the consumer to have a "fresh mind" and gives way to a better understanding of the new product you are discussing.
If you have any questions our marketers are here to help.
Good luck, and happy selling.
Additional Updates: