Record Medicare Advantage Growth Expected This AEP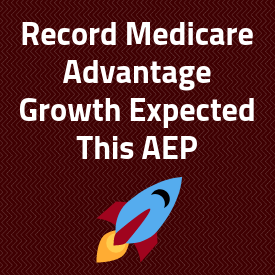 A flood of new Medicare Advantage health plans are expected to divvy up a larger pool of seniors flocking to lower premiums, expanded benefits and additional choices for 2019. UnitedHealth, Aetna, Cigna, Humana and Anthem are selling in new markets and additional counties when AEP starts Monday; this is expected to increase the total number of seniors enrolled in M/A for 2019 to more than 22 million. The number of Medicare Advantage choices will increase nearly 20% to 3,700 in 2019 from about 3,100 in 2018, according to the CMS. "More than 91% of people with Medicare will have access to 10 or more M/A plans in 2019, compared to nearly 86% in 2018," CMS said.
The nation's largest health insurer, UnitedHealth Group, is expanding its individual Medicare plan offerings to 130 more counties in 2019 and entering Minnesota this year. In all, UnitedHealth will offer Medicare Advantage plans in 47 states and Washington D.C. for 2019. And Humana will expand HMO offerings into 97 new counties and PPO plans in 352 new counties for 2019 , and Anthem is launching MA plans in 150 new counties , the insurers said.
Aetna, too, has a major expansion underway plans even as it works to complete its merger with CVS Health. Aetna is offering Medicare Advantage Prescription Drug plans in 358 new counties and six new states including a joint venture Medicare Advantage plan in the Minneapolis market with Allina Health, a large provider of medical care in that region.
"This represents the biggest expansion of Medicare Advantage in Aetna's history, giving about 7.4 million more Medicare beneficiaries access to an Aetna plan," Aetna spokesman T.J. Crawford said of the insurer's 2019 Medicare Advantage offerings in 45 states and Washington D.C.
Meanwhile, Cigna said it's expanding into Florida, a market rich with seniors, offering two Medicare Advantage plans in the state. Florida has also been a target of Anthem, Centene and Humana, which have purchased doctor practices, clinics, other outpatient operations or regional health plans in the market as a way to complement their Medicare Advantage businesses.
Several smaller and startup plans like Bright Health and Devoted Health are also entering the Medicare Advantage business in certain regions of the country, taking advantage of a market of more than 10,000 baby boomers aging into the Medicare population every day. "In most cases, MA plans both entered new counties through acquisition or de novo geographic expansion, as well as offered additional plan benefit packaged options in existing counties," L.E.K. Consulting's Kadar said.
The open enrollment period runs Oct. 15 to Dec. 7 for seniors signing up for Medicare Advantage or renewing their coverage from this year.
Medicare Advantage plans contract with the federal government to provide extra benefits and services to seniors, such as disease management and nurse help hotlines, with some even providing vision and dental care and wellness programs.
Medicare Advantage enrollment will rise to 38 million, or 50% market penetration by the end of 2025, according to a report last year from L.E.K. Consulting. Currently, just under 35% of Medicare beneficiaries, or about 20 million Americans, are enrolled in MA plans. "We remain bullish on MA and believe that increased availability of plan options at the county level will continue to increase MA penetration going forward," Kadar said.
Additional Updates: