Politicians Hop Aboard 'Medicare-For-All' Train, Destination Unknown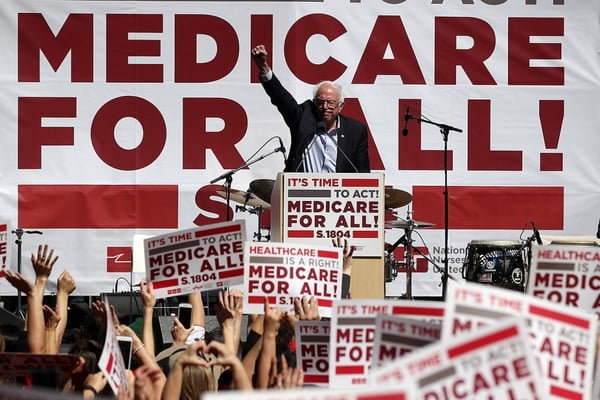 Sen. Bernie Sanders (I-Vt.) speaks during a health care rally at the 2017 Convention of the California Nurses Association/National Nurses Organizing Committee on Sept. 22, 2017 in San Francisco. (Justin Sullivan/Getty Images)
After decades in the political wilderness, "Medicare-for-all" and single-payer health care are suddenly popular. The words appear in political advertisements and are cheered at campaign rallies — even in deep-red states. They are promoted by a growing number of high-profile Democratic candidates, like Alexandria Ocasio-Cortez in New York and Rep. Beto O'Rourke in Texas.
Republicans are concerned enough that this month President Donald Trump wrote a scathing op-ed essay that portrayed Medicare for all as a threat to older people and to American freedom.
It is not that. But what exactly these proposals mean to many of the people who say they support them remains unclear.
As a renegade candidate for the 2016 Democratic nomination for president, Sen. Bernie Sanders (I-Vt.) opened the door to such drastic reform. Now, with Republicans showing little aptitude for fixing an expensive, dysfunctional health system, more voters, doctors and politicians are walking through it.
More than 120 members of Congress have signed on as co-sponsors of a bill called the Expanded and Improved Medicare for All Act, up from 62 in 2016. And at least 70 have joined Capitol Hill's new Medicare for All Caucus.
But some worry the terms "Medicare-for-all" and "single-payer" are at risk of becoming empty campaign slogans. In precise terms, Medicare-for-all means bringing all Americans under the government's insurance program now reserved for people 65 and over, while single-payer health care would have the government pay everyone's medical bills. But few politicians are speaking precisely.
Celinda Lake, a Democratic pollster, said, "People read into 'Medicare-for-all' what they want to read into it."
For every candidate with a clear proposal in mind, another uses the phrases as a proxy for voter frustration. The risk, some critics say, is that "Medicare-for-all" could become a Democratic version of the Republican "repeal and replace" slogan — a vote-getter that does not translate to political action because there is neither agreement about what it means nor a viable plan.
"If you're on the left, you have to have something on health care to say at town halls," said David Blumenthal, president of the Commonwealth Fund. "So you say this and move on. That's part of the motivation."
Dr. Carol Paris, the president of Physicians for a National Health Program, an advocacy group, said she has fielded a number of calls from candidates asking for tutorials on Medicare-for-all.
"I'm heartened, but not persuaded" that all the high-profile talk will result in any action, she said. She worries about what she called "faux 'Medicare-for-all' plans" that don't live up to the mantra.
Additional Updates: