Part D Overview for AEP 2021
In 2021, 996 Prescription Drug Plans will be offered across the 34 PDP regions nationwide (excluding the territories).

This represents an increase of 48 PDPs from 2020 (a 5% increase) and an increase of 250 plans (a 34% increase) since 2017. This fact sheet provides an overview of the Medicare Part D program, plan availability, enrollment, spending and financing.

Part D Benefit Parameters Increasing in 2021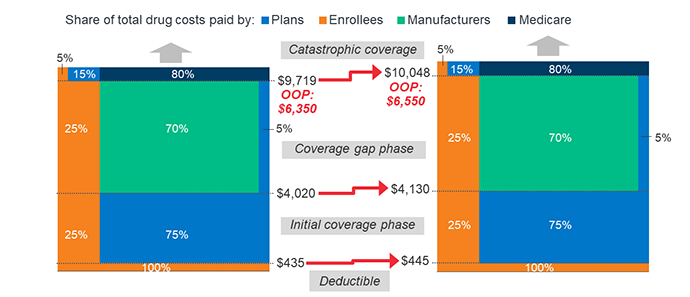 The Part D standard benefit has several phases, including a deductible, an initial coverage phase, a coverage gap phase and catastrophic coverage.

Between 2020 and 2021, the parameters of the standard benefit are rising, which means Part D beneficiaries will face higher out-of-pocket costs for the deductible and in the initial coverage phase, as they have in prior years, and will have to pay more out-of-pocket before qualifying for catastrophic coverage (see graph above).
The standard deductible increases from $435 in 2020 to $445 in 2021;

The initial coverage limit increases from $4,020 to $4,130, and;

The out-of-pocket spending threshold increases from $6,350 to $6,550 (equivalent to $10,048 in total drug spending in 2021, up from $9,719 in 2020).



Part D Standalone Enrollment has Declined, But Increased in Medicare Advantage Plans




In 2020, 46.5 million Medicare beneficiaries are enrolled in Medicare Part D plans, including employer-only group plans; of the total, just over half (53%) are enrolled in stand-alone PDPs and nearly half (47%) are enrolled in Medicare Advantage drug plans.

Full article with many interactive graphs