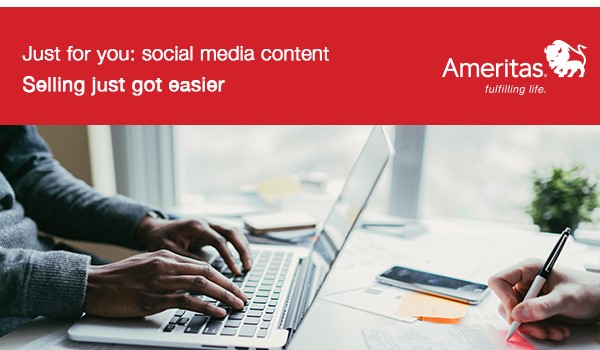 You asked, Ameritas delivered!
In May, Ameritas conducted a webinar and heard from several attendees that they would like to know how they can share information about Ameritas on social media. Social media is a great way to communicate with your customers and we want to support your need for content that shares our plans and service with others.
One way you can do this is by following Ameritas on Facebook, Twitter, LinkedIn, Instagram and YouTube and simply sharing the dental and vision posts from us that you like.
We've crafted a couple social media posts to share with you here, each with its own infographic, plus three stand-alone infographics. To share, simply copy and paste the posts onto your platform of choice, and download the infographics to share them as an image.
Social media posts
(Pair with this image for Facebook or Twitter)

Did you know many Americans who are 100% covered by their dental plans skip dental checkups?* By choosing Ameritas dental insurance, you get coverage from day one and with more than 483,000 access points nationwide there is no reason to skip a visit to the dentist!
Who is getting ready to sign up for Medicare? Did you know that dental is not covered under Medicare? Check out What's Not Covered on page 49 of Medicare & You book to learn more. Ameritas has you covered when it comes to Dental.
Additionally, we've provided some tips and tricks for writing your own social media content below.
Sharing information via social media really comes down to making a positive first impression and positioning yourself as a resource to your followers. Here are our top 4 tips for crafting great social media content:
Don't make it about you
Understand your audience and what they want. Start with that, not with your own agenda or qualifications.
Understand the audience on each platform
For example, LinkedIn has a very different atmosphere than Twitter. Different strategies (brevity, imagery, humor) may play well in different environments, so get a feel of the platform before you post.
Be engaging
Including open-ended questions in a post is proven to boost engagement. And if someone comments, respond!
Follow organizations that you care about
Get contracted with Ameritas to sell dental plans. Request details here
Image: Canva
Additional Updates: