New Mutual of Omaha Medicare Advantage Plans Now Available for Cincinnati-Area Seniors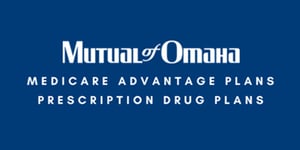 Mutual of Omaha Care Advantage Complete and Mutual of Omaha Care Advantage Plus plans focus on wellness and high-quality care while offering benefits that include prescription and over-the-counter drug coverage, dental and vision care, and extras such as transportation to and from doctor appointments and fitness options through the SilverSneakers program.
"As a customer-focused company, we understand that Medicare Advantage is the right option for a significant number of seniors," said Mutual of Omaha Senior Vice President Amber Rinehart. "We listened to what customers value in planning for their health care needs and are launching Medicare Advantage plans that address those needs with excellent local health care partners and backed by Mutual of Omaha."
The plans will provide members in-network access to two local health care systems, TriHealth and St. Elizabeth Healthcare.
"Mutual of Omaha's Medicare Advantage plans are committed to delivering top quality care for seniors. TriHealth and St. Elizabeth are two systems that share this vision and are dedicated to making a difference in patients' lives," Rinehart said.
Mutual of Omaha's Care Advantage plans are offered through its Mutual of Omaha Medicare Advantage Company affiliate in collaboration with Lumeris, a leader in value-based care.
For more information, visit MutualofOmahaCareAdvantage.com.
About Mutual of Omaha
Founded in 1909, Mutual of Omaha is a Fortune 500 organization offering a variety of insurance, banking and financial products for individuals, businesses and groups throughout the United States. In the individual market, Mutual is a leader in the senior health, life, long-term care, disability and annuity lines. The company also offers a portfolio of employee benefit and retirement solutions. With $8 billion in assets, Mutual of Omaha Bank is a full-service bank providing financial solutions to individuals and businesses across the United States. For more information about Mutual of Omaha, visit www.mutualofomaha.com.
About Lumeris
Lumeris is a value-based care managed services operator for health systems and providers seeking extraordinary clinical and financial outcomes. Recognized nationally by KLAS in 2018 for Value-Based Care Managed Services, Lumeris aligns providers and payers across populations with technologies, processes, behaviors and information to achieve high-quality, cost-effective care with satisfied consumers — and engaged physicians. It was the third straight year Lumeris received the distinguished Best in KLAS award. For the past eight years, Lumeris with Essence Healthcare, its inaugural client and learning laboratory with more than 65,000 Medicare members in Missouri and Illinois, has received 4.5- to 5-Star Ratings from the CMS and produced the highest consumer and physician satisfaction scores in the industry along with significantly better clinical outcomes and lower costs. For more information, go to www.lumeris.com.
Additional Updates: