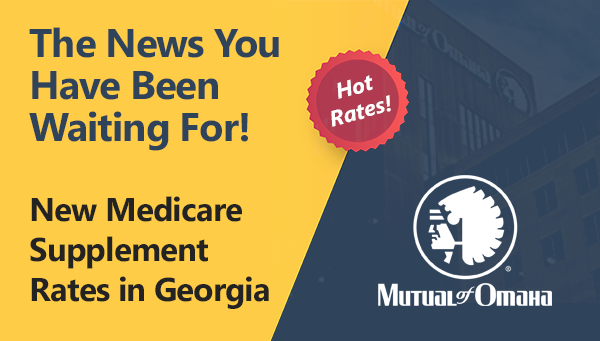 We have some exciting news to share!
Mutual of Omaha is releasing a new Medicare Supplement in Georgia. Request details today and be ready when the product roles out for new sales.
Call us at 800-998-7715 and one of our marketing representatives would be happy to share this valuable information with you.
---
There are Medicare changes coming effective January 1, 2020 as a result of the Medicare Access and CHIP Reauthorization Act of 2015 (MACRA). The Act eliminates Medigap plans that cover the Medicare Part B deductible (Plans C, F and High-Deductible F) for people who are Medicare eligible on or after January 1, 2020. That means those Medicare beneficiaries will not have a Medigap option with first-dollar coverage and will pay the Medicare Part B calendar-year deductible themselves.
How this impacts our new Mutual of Omaha Georgia Product:
Effective April 12th, you can now sell Plans A, F, G and N
Effective July 1st, you may begin selling the new High Deductible Plan G for applications with an effective date of January 1, 2020 or later
Until December 31, 2019 our High Deductible Plan F, underwritten by Omaha Insurance Company, will still be available in Georgia for individuals who are Medicare eligible prior to January 1, 2020. Only paper applications will be available for submission and can be downloaded on Sales Professional Access, Forms and Materials.
For more information on how MACRA impacts your clients, click here.
Additional Updates: