Mutual of Omaha Offers Competitive Prescription Drug Plans for your Medicare clients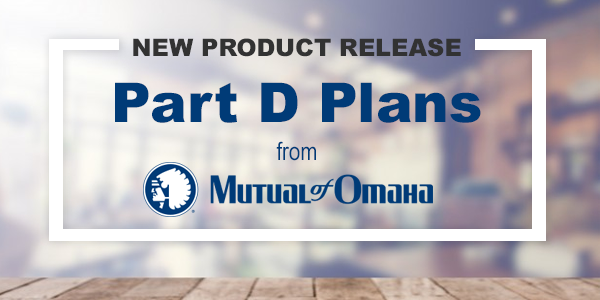 This AEP you have two new Prescription Drug Plans to offer your Medicare clients. These new plans – Mutual of Omaha Rx Value and Mutual of Omaha Rx Plus – are available nationwide except New York.

Check out the plan details here

Looking for a reason to sell Mutual of Omaha Rx plans?

Did you know…
Their PDP Value plan shows up on Plan Finder at Medicare.gov ranked at #2 when using CMS's average prescription cost*, and

85% of Medicare supplement customers also purchase a Part D prescription drug plan and 73% buy their Med supp and PDP from the same carrier**. Take the opportunity to offer your client a Mutual Med supp with a Mutual of Omaha Rx PDP plan from a trusted carrier.
Mutual of Omaha has plans for your Medicare-aged clients who are looking for an affordable, reliable prescription drug plan that can help make their savings last and offers broad prescription coverage.
In fact, here are three things we think they'll love about Mutual of Omaha Rx Value and Mutual of Omaha Rx Plus:
Deliver coverage with low premiums and deductibles

Broad Coverage. Build plans around the medications that matter most to our members

Extensive Preferred Network. Give members access to a national network of more than 67,000 pharmacies, retailers, grocery stores and neighborhood pharmacies
Not appointed to sell Mutual of Omaha Part D plans? Request details here
*Estimated Annual Drug Cost: This is an estimate of the average amount an individual might pay each year for their prescription drug coverage. This estimate includes – monthly premiums, annual deductibles, drug copayments/coinsurance and drug cost not covered by prescription drug insurance.

** Source: Oliver Wyman, "The Part D Dilemma" February 2015,

Insurance products and services are offered by Mutual of Omaha Insurance Company or one of its affiliates. Mutual of Omaha Rx (PDP) is a prescription drug plan with a Medicare contract. Enrollment in the Mutual of Omaha Rx plan depends on contract renewal.
Additional Updates: