Just in time for AEP business - HOT new Med Supp rates in VIRGINIA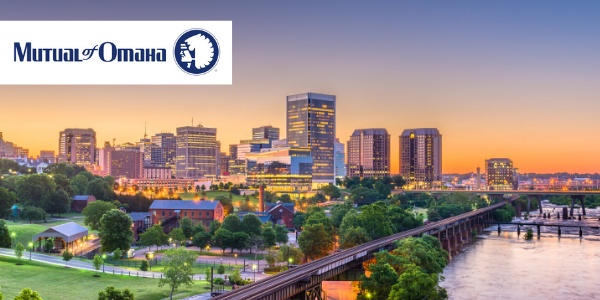 Great news! Mutual is launching a new affiliate underwriting company in Virginia.
Please read through these additional details regarding this launch and check out the competitive rates. Please let me know if you have questions.
Virginia
Converting from Omaha Insurance Company to Mutual of Omaha Insurance Company (see the attached product availability map)
The paper application and outline of coverage are attached
Producers can start taking paper apps in Virginia on November 8th (today), with an application sign date of November 8th or later; however, as we have system updates to install, the soonest applications can issue is Friday November 22nd
Orders for paper applications may be placed starting today by calling our Sales Support team at 1-800-693-6083
Paper applications and outlines of coverage can be downloaded from our agent portal Sales Professional Access (SPA) starting today
The e-Application will be available on Friday November 22nd
The household discount is 12%
Commissions are not changing. New schedules will be available on SPA soon
Virginia is included in our Q4 Med supp Broker Bonus program (see attached)
As of December 31, 2019, we will no longer accept Omaha Insurance Company apps in Virginia
An official announcement regarding this new product launch will be in Express on November 13th
Looking to offer Mutual of Omaha Medicare Supplement plans to your clients?
Request info here or call one of our marketing representatives at 800-998-7715.
Additional Updates: