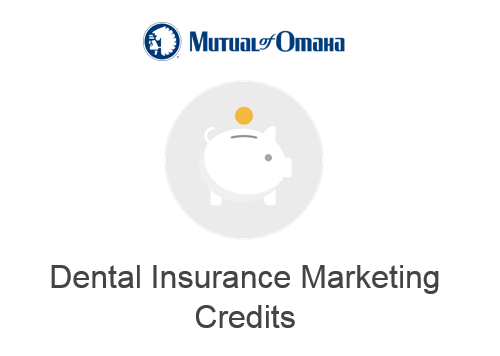 Earn June 1 - September 30
For a limited time, you can earn marketing credits just for placing your dental insurance business with Mutual of Omaha.
You can earn the following credits for your issued dental applications for up to 600 total credits:
30 credits for 1-2 issued dental apps
60 credits for 3-4 issued dental apps
90 credits for 5-6 issued dental apps
150 credits for 7 or more issued apps
Each marketing credit gives you $1 to help build your Mutual of Omaha Medicare supplement business. Use your credits for things like:
Leads
Postage for mailings
Office supplies that allow you to use our electronic tools (i.e., computer, laptop, tablet or smart phone)
Advertising, and more
You'll receive monthly emails - July through October - with your current balance. You may redeem your credits at any time during the program. All credits must be redeemed by December 1.
Not appointed to sell dental insurance with Mutual? Request details here
Additional Updates: