Medicare Shopping and Switching
and the Agent's Role
Two thirds of all switchers this past AEP relied on the assistance of a health insurance sales professional, with agents and brokers leading the way. Agents and brokers have a significant influence on Medicare Member's decision making. Health insurers need to understand the key roles that agents play and what motivates them.
Deft Research has just published its 2018 Medicare Shopping and Switch Study which reports on the Fall annual enrollment period (AEP) activities of both senior consumers and health insurance agents. The study covers both the reasons seniors have for shopping and switching and the various information channels they use when making decisions.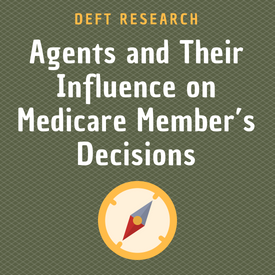 The study re-affirms the idea that people need the help of an insurance professional when making health plan decisions. Consumers have reported that the tools found on Medicare.gov and other websites often provide them with lots of information but no help making a decision – in fact many wind up more doubtful than they began.
Part of the problem is that a set of health plans placed together for consideration usually produces more questions. A clear decision does not emerge.
When faced with such a choice, consumers seek a way to make a selection based on trust. Trust is the most fundamental element of the consumer-health plan relationship and consumers seek it in various forms. One form is the trustworthiness to be found in brand reputation, "Does the brand take care of people if they get sick?" Another form comes through the affirmation of a knowledgeable person such as an insurer's own representative or an agent.
The Need for Agents
Over time, despite the emergence and refinement of on-line shopping resources, we have seen the percentage of seniors using health insurance agents has remained relatively stable. We have also seen that agents create an environment which makes seniors more comfortable with switching.
According to the study, agents facilitate almost 50% of the occasions when a senior switches from one plan to another.
When an agent talks with a senior, the respondents to our survey most often report that a Premium-to-Benefit analysis occurs. This analysis includes a review and assessment of drug coverage, as well as a check on whether the consumer's doctors are in the network.
The conclusion one could reach is that senior health plan consumers who are serious about finding a plan that is better for themselves, often need personal assistance.
Adam Hyers, an agent working with Precision Senior Marketing shares his thoughts on this topic. " As part of our services at Hyers and Associates Medicare Supplement Insurance we will generally schedule a yearly appointment with our clients and go over their current coverage to address any changes taking place. A percentage of those annual reviews will result in moving the client to a new plan that better suits their needs due to changes in the market."
Medicare switchers were 3.8 times more likely than non-switchers to receive help from an agent during the 2018 AEP.
We find that agents gravitate toward products that are lucrative for them to sell. For example,
77% of agents in the health insurance business sell Supplemental Medicare coverage (Medsupp). While only 43% sell Prescription Drug Plans (PDP's). A significant proportion of agents forgo the PDP opportunity, and only 3% sell PDP's only.
We also find that Deft's 2018 Medicare Shopping and Switch Study results support the idea that agents must consider the ease and speed of sales. With a large bulk of business to be closed in the short AEP timeframe, if the agent is to meet sales goals, products that take more time to explain and inject more uncertainty cannot be favored over simpler products.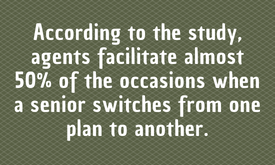 Consistent with this statement, the study found that:
Although only 25% of Medicare Advantage enrollment is in a PPO, agents report that over half of their sales are PPO's.

Forty percent of agents said their PPO sales had grown this year and a similar percent (43%) said they expect PPO sales to grow again next year.
PPO's have larger networks and fewer restrictions on access to doctors and hospitals. This fits our idea of simpler, easier, and faster to sell. This means that without changes to the system, we cannot expect agents to be leaders in promoting new products with more complicated networks, formularies, and tiers.
Health plans are under pressure to control costs and engage consumers. Agents are important players in this market. If health plans are to succeed in their charge, agents will likely play a role in that success. In order get the best out of agents we have several actions insurers can take:
We have found in several studies that insurers could develop agent tools that go beyond the plan selection tools currently available. These would certainly include easy interfaces for checking on doctor and hospital availability. They also need to go further in helping consumers understand what would happen in various dire circumstances – if you needed to go to the emergency room, where would you be taken? What would it cost? Under situations of distress, who would help you and assure your coverage would work? What services are likely to be needed in an entire episode of care? Agents can't be expected to provide these answers, but they would communicate them to their clients, and with this we see a tool for understanding whether a narrow network plan would work for them.


The study suggests that insurers should know that agents are critical of the agent service they receive from health plans. 95% of agents said they were more likely to sell the health plans who provided good service to them over others who do not.



The study also found that providing extra incentives, vacations, trips to conferences, additional bonuses and gifts to agents, is motivating to the majority. Two-in-five agents are not given the opportunity to earn extra incentives. Here is perhaps a gap in the market for insurers to help fill.

Supporting Documents:
The Dental Dilemma
The Omnipotent Omnichannel Approach
Additional Updates: