Medicare Market Insights and
Plan Competition for 2019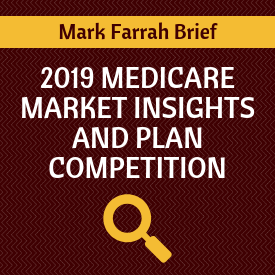 Medicare Advantage (MA) plans have been eagerly preparing their Medicare products in anticipation of the 2019 Annual Election Period (AEP) which is now upon us. The 2019 Medicare Advantage market is comprised of national health plans, Blue Cross Blue Shield organizations, prominent regional health plans and specialized Medicare companies. MA plans currently provide medical coverage for over 21.5 million beneficiaries. In the last three years, these plans have collectively increased enrollment by approximately 3.7 million members and currently cover over 34% of the nearly 63 million people eligible for Medicare benefits.
As Medicare companies finalize sales and marketing strategies, they analyze data from Medicare Plan Finder (MPF), an online tool that makes it easy for seniors to review options and shop for new Medicare plans. Medicare Benefits Analyzer™ , a Mark Farrah Associates' database, helps simplify the analysis of the Medicare Plan Finder data for companies competing in this segment. This brief presents a snapshot of the 2019 Medicare Advantage market with insights from the Centers for Medicare and Medicaid Services (CMS) Medicare Landscape reports and discusses the plans that will be vying for business during the AEP.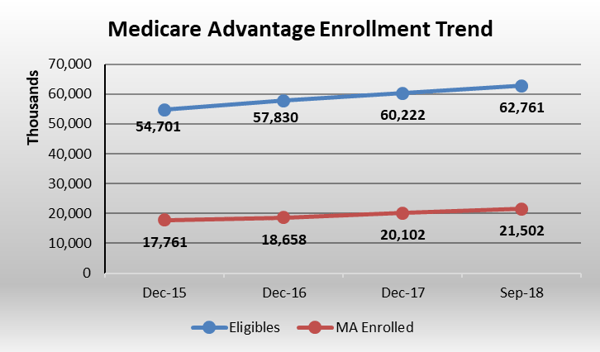 The Competitive Medicare Landscape
MA plans, along with stand-alone PDPs (prescription drug plans), are immersed in competitive assessments as beneficiaries begin to choose plans during this Annual Election Period, which runs between October 15th and December 7th. Based on an aggregate analysis of CMS Landscape reports, a total of 3,810 distinct Medicare Advantage (MA) plan offerings are in the market lineup for the onset of the 2019 AEP. This includes MA plans, Medicare Advantage with prescription drug plans (MAPDs), Medicare/Medicaid plans (MMPs), and Special Needs Plans (SNPs). During the AEP, Medicare beneficiaries can choose to change MA plans or switch from Original Medicare to MA, and plan benefits will become effective on January 1, 2019.

MFA's analysis of CMS landscape data found a total of 3,077 MA plans being offered for 2019, including MMPs, up from 2,619 in 2018. In addition, a total of 733 Special Needs Plans (SNPs) are available in 2019, up from 640 in 2018. Health Maintenance Organizations (HMOs) represent 68% of all MA plan types with over 2,600 offerings for the coming year. Stand-alone PDPs nationwide increased for 2019 with 910 plan offerings, as compared to 795 plans in 2018.
According to the CMS press release, Medicare Advantage premiums continue to decline while plan choices and benefits increase in 2019 ; Medicare Advantage average monthly premiums will decrease 6% from 2018, falling to $28. Enrollment is projected to experience 11.5% growth over 2018. In addition, over 91% of people with Medicare will have access to 10 or more Medicare Advantage plans, which is up from 86% for 2018.
Plan Competition for 2019
Based on the 2019 CMS Landscape reports, Humana continues to market more MA plans than any other company nationwide, with 548 distinct plans identified in MFA's assessment. UnitedHealth continued to increase its MA plan offerings for the 2019 calendar year with 406 distinct plans identified, up 62 plans from last year. Aetna (including Coventry and other affiliates) is offering 355 plans for 2019. Anthem and the vast majority of other Blue Cross Blue Shield plans as well as WellCare and Centene also continue to have a notable plan offerings presence, respectively.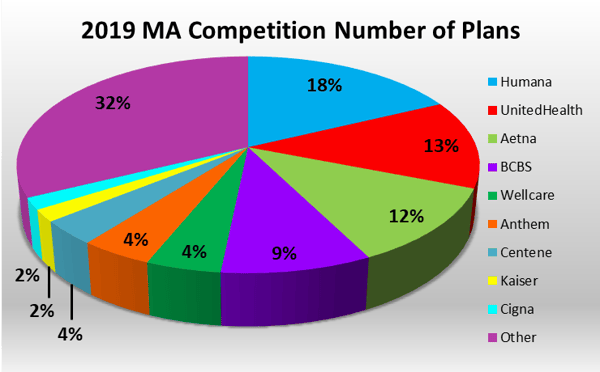 Read the full article here
Additional Updates:
Medicare Advantage / AEP Updates: