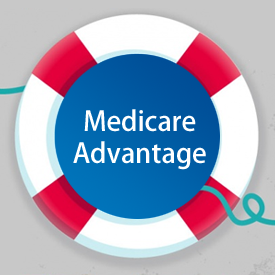 While Medicare Advantage plans added nearly 900,000 members in 2016, enrollment is growing at a slower pace. Still, experts say the future of Medicare Advantage will be lucrative for insurers.
"It's the only safe game in town, in all of health insurance," said John Gorman, a former CMS official who is now a healthcare consultant in Washington.
Enrollment in Medicare Advantage, the private, managed care version of the federal health program for seniors, reached nearly 18.7 million as of Dec. 1, according to the latest federal data.
UnitedHealth, Humana, Kaiser Permanente and Aetna held the throne for the most Medicare Advantage plan members. Enrollment in UnitedHealth's Medicare Advantage plans grew 13.2% to just shy of 4 million members, while enrollment in Aetna's grew 8.9% in 2016. Kaiser Permanente's Advantage plans grew by 5.1%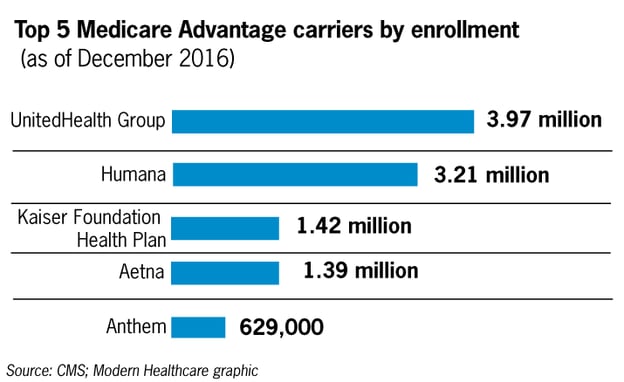 Humana, though still No. 2 in plan members behind UnitedHealth, lost nearly 40,000 plan members this year when a large group account went to a private exchange in January.
And Cigna, which was sanctioned by CMS in January for failing to comply with the agency's Medicare rules, only enrolled about 4,000 members in 2016. Because of the sanctions, Cigna wasn't able to participate in Medicare's annual enrollment period, which ran from Oct. 15 to Dec. 7. If the Bloomfield, Conn.-based insurer doesn't fix the problems soon, it could see its Medicare membership plummet.
Cigna and Humana were both hit by lower quality ratings, which may deter would-be enrollees from picking their plans.
Medicaid managed care insurer Centene, which has been investing heavily in its Medicare Advantage business, saw enrollment explode to more than 302,000 from about 34,000 last year, largely due to its recent acquisition of Health Net.
While Medicare Advantage enrollment grew 5% in the 12 months since Dec. 1, it has slowed in the last couple of years. It was up 6.8% year over year at the end of 2015 and 9.8% in 2014.
Part of the slowdown can be attributed to funding cuts imposed by the Affordable Care Act starting in 2012 and phased in over the last five years, Gorman said. Those cuts were devised to help offset the cost the ACA exchanges and bring Advantage payment rates in line with traditional Medicare.
Medicare Advantage rates are based on the trends and utilization of traditional fee-for-service Medicare plans and adjusted for plan members' risk scores. Before the ACA, Medicare was paying private plans at a much higher rate than the cost of fee-for-service benefits. They reached a high of 114% of traditional Medicare payments in 2009. But the Medicare Payment Advisory Commission said in December that payment rates have evened out.
Source: http://www.modernhealthcare.com/article/20161222/NEWS/161229969/enrollment-slows-but-medicare-advantage-still-only-safe-game-in-town
Additional Updates:
Express: Mutual of Omaha weekly product updates

-

View

VALUES Quote of the week

-

View

Skyrocket your Med Supp sales by selling online

-

View
Free Med Supp online quoting tool for PSM agents -

View