Medicare Advantage Now the "Choice"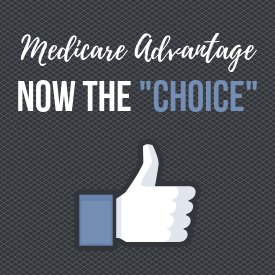 As of March 2018, Medicare Advantage plans served 21.1 million people of the 61.2 million eligible. The proportion of eligible Medicare members selecting M/A increased to 34.5% in March 2018 from 33.8% in 2017. M/A membership increased by 7.5% from 19.6 million in March 2017.
M/A participation increased from 12.9% of total beneficiaries in 2005 to 34.5% in 2018. In every year since 2007 – except for 2016 and 2018 – the net number of people joining M/A plans exceeded those joining traditional Medicare. While there are 13.4 million more people eligible for Medicare, the number of people served by traditional Medicare is now 2.4 million higher than it was in 2005. In other words, 74% of the additional Medicare beneficiaries since 2005 are in Medicare Advantage, as opposed to 26% in traditional.


Medicare Advantage Share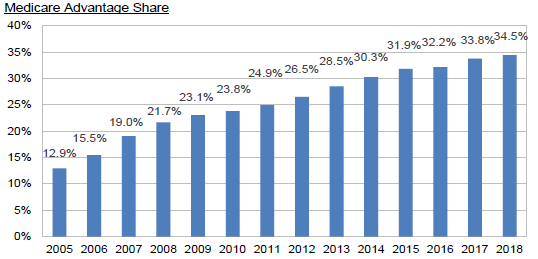 Related: Find out why Medicare Advantage's loyalty is improving with consumers
Additional Updates:
Medicare Advantage / AEP Updates: