Medicare Advantage Enrollment Up 125% Among Dual-Eligible Beneficiaries
We know that Medicare beneficiaries have the opportunity to enroll in Medicare Advantage (MA) every year during annual open enrollment.

We also know that the number of beneficiaries choosing MA each year has been steadily increasing.

Among the beneficiaries choosing MA in increasing numbers is the cohort of Dual Eligible beneficiaries, those that qualify for both Medicare and Medicaid.

According to a new report from actuarial consulting firm Milliman, 2019 MA enrollment was 60% more than in 2013, but fee-for-service Medicare (FFS) increased by only 5%.

In 2013 there were 9.6 million full or partial dual beneficiaries, with 2.4 million (25%) enrolled in Medicare Advantage.

By 2019 the total number of partial or dual eligibles had increased to 12.3 million, with 5.4 million (42%), enrolled in Medicare Advantage.

This represents an overall increase in dual eligibles from 2013 to 2019 of 28%, while MA enrollment grew by 125% and FFS dropped by 5.6%


Medicare Advantage Growth
From 2013 to 2019, the number of Medicare beneficiaries enrolled in MA plans increased faster than overall Medicare enrollment.

The FFS population grew by 5% in that time period, while the MA population grew by 60%.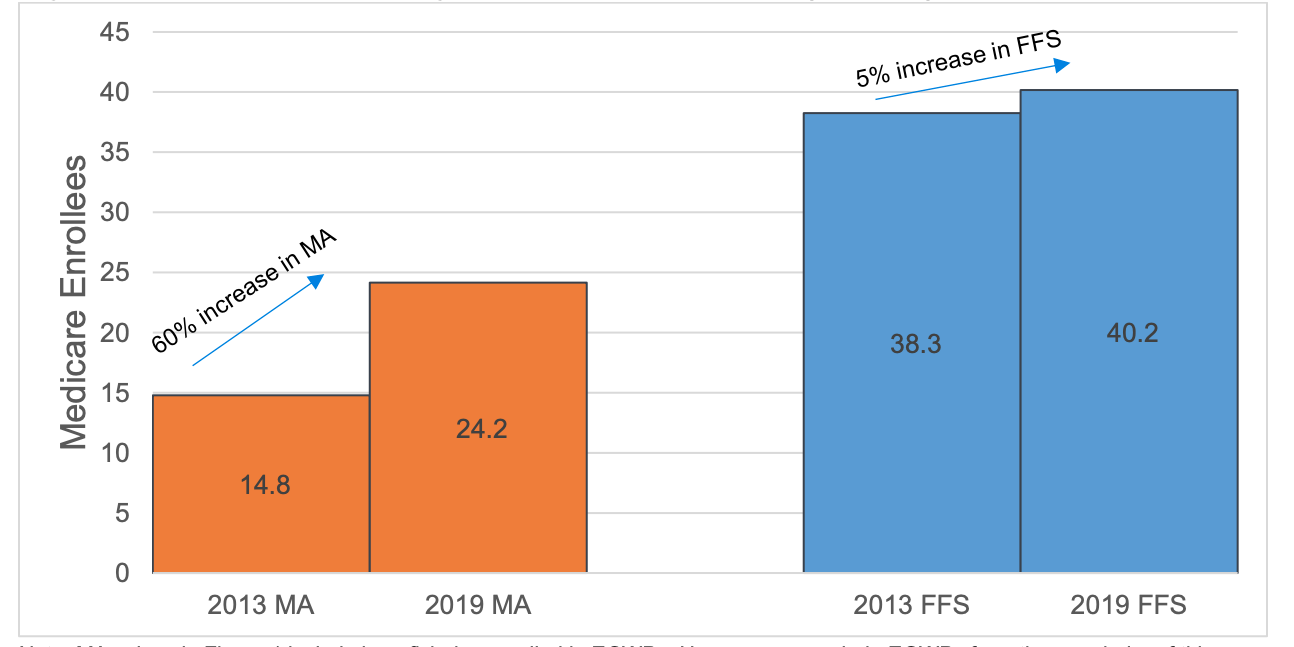 In 2019 MA made up about 37% of total beneficiaries.
The Congressional Budget Office (CBO) projects that Medicare Advantage enrollment will grow to nearly 50% by 2029.

It's pretty clear at this point that Medicare Advantage is poised for even more growth for the foreseeable future, and the Dual Eligible population is choosing MA in increasing numbers.

We hope you can utilize this information to better serve the Dual Eligible population, as they have been largely underrepresented in the Medicare landscape.


Check out the full report by Milliman and the Better Medicare Alliance.
Additional Updates: