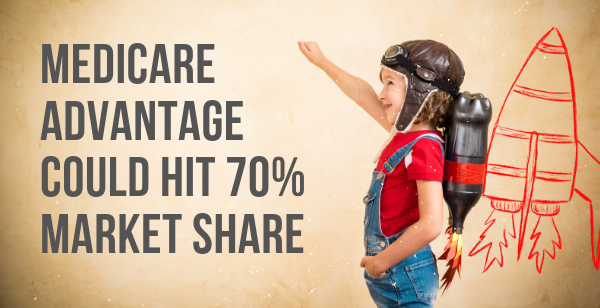 Enrollment of seniors in private Medicare Advantage plans could reach 70% of those eligible for federal health benefits for the elderly between 2030 and 2040, a new report shows.
For now, the regulatory and political environment remains positive for expansion of Medicare Advantage, which allows private health plans to contract with the federal government to provide medical benefits to seniors. Medicare Advantage plans provide extra benefits and services to seniors, such as disease management and nurse help hotlines, as well as some plans providing vision and dental care.
"Today the status and long-term structure of healthcare reform remain in flux, but MA enrollment is still growing — and with largely bipartisan support," the report released this week by L.E.K. Consulting on Medicare Advantage penetration shows.
---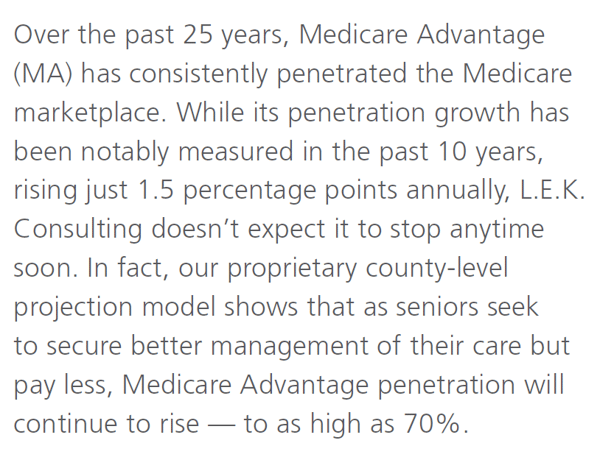 ---
Enrollment in MA plans surpassed 22 million last year, which is 35% of total Medicare beneficiaries. "Looking ahead, we expect enrollment growth to continue in line with our previous forecasts of 7.7% compound annual growth rate (CAGR) to reach 47% penetration, or just over 37 million members in 2025," L.E.K. executives Andrew Kadar, Andrew Garibaldi and Daniel Parker wrote in their 7-page report.
Health insurers Humana, UnitedHealth Group, Anthem, Cigna and CVS Health's Aetna health insurance business dominate the Medicare Advantage business while Centene is poised to expand with its proposed acquisition of WellCare Health Plans. Meanwhile, several startups like Bright Health and Oscar Health are looking to expand into Medicare Advantage.
Health insurers see growth thanks in part to changes by the Trump administration in regulations that allow Medicare Advantage plans to cover more supplemental benefits. MA plans are also benefitting from more than 10,000 baby boomers turning 65 every day and becoming eligible for Medicare.
"As seniors increasingly eschew Original Medicare in favor of lower payments, enhanced care management and more cost certainty, with encouragement from both health plans and, albeit indirectly, the government, we expect that growth to continue — to 47% penetration by 2025 and, eventually, up to as high as 70%," L.E.K said in its report. "Payers will therefore need to take aggressive action to grow market share of their Medicare Advantage offering. That could include expanding into new counties, investing in targeted sales to age-ins, and designing new products to attract new members and keep them healthy."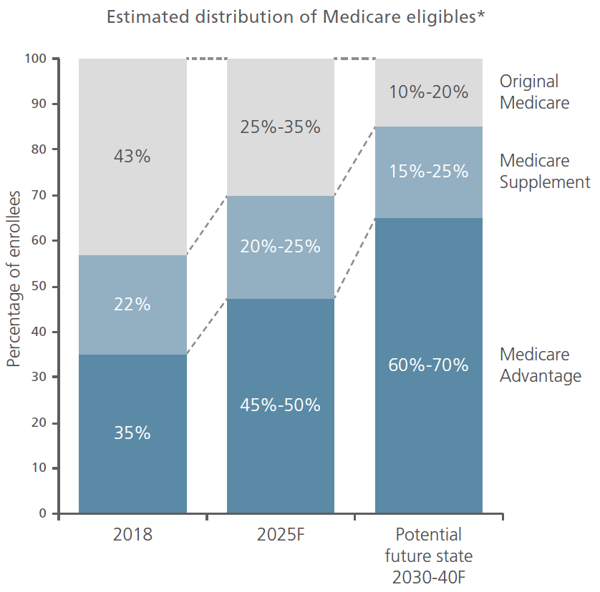 Source: https://www.forbes.com/sites/brucejapsen/2019/06/18/private-medicare-advantage-could-hit-70-market-share/
Image: Canva
Additional Updates: