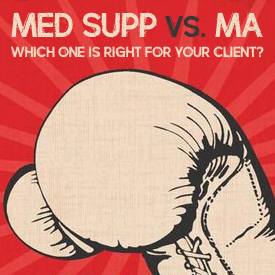 If you've been keeping up with everything that has been happening in senior health care, then you have noticed all the changes within the Medicare program. However, Medicare is more than just insurance.
In many ways, Medicare is a capstone for the years and, in some cases, decades of planning and work that advisors have done to help their clients plan and save for a comfortable retirement.
Health care costs continue to be the No.1 cause of bankruptcies in the United States, and this is especially true among the elderly. A good, solid, compatible health care plan that works with Medicare can go a long way toward making sure your clients' retirement years work out the way they, and you, have planned.
The catch is that there are two solutions to these problems. Depending on where you live, both solutions are viable for some clients, but are not the right fit for others. A third option exists: employer or group coverage. I will skip discussing that third option in this article because employer/group coverage is not available to all your clients, and the benefits and costs associated with that coverage are vast. If a group option exists, take a look at it as a viable choice for your client, but do not assume it is better coverage than the private options. It always pays to do some due diligence comparisons with these plans.
So let's take a look at our two contenders.
Old Faithful: The Medicare Supplement
Medicare supplements have been mostly unchanged since 1990. Prescription drugs were removed from the plans in 2006. Over the years, a few plan letters were eliminated and a few more plan types were added. But for the most part, a Medicare supplement today is still the Medicare supplement of 20 years ago. That is important. Medicare supplements generally do not change their benefits much from year to year.
Medicare supplements have plan letters. They range from A through N, with some letters skipped. And the plan letters from 1990 offer pretty much the same things today as they did then. The best way to get a look at Medicare supplement benefits is to review an insurance company's summary of benefits or the government guide, "Choosing a Medigap Policy." For most plans, a benefit is covered at 100 percent or not covered at all. If you have a client who wants something fully covered — no copays, no fuss, no annual changes — this could be what they want. And to make things even more convenient, your client can use most supplements with any doctor, any hospital, anywhere in the United States as long as those doctors and hospitals accept Medicare. So there are neither network considerations nor travel restrictions on health care if your client opts for a Medicare supplement.
But the Medicare supplement has two downsides. The first is the premium. Although premiums generally vary by state, county and even ZIP code, they tend to be larger than premiums charged by other plans. Medicare supplement premiums also have a tendency to go up, probably on an annual basis.
The other downside to a Medicare supplement is underwriting. A supplement requires your client to answer health questions. Depending on your client's health, the opportunity might be closed to them at a later date. Federal laws require one opportunity to get a Medicare supplement on a guaranteed basis once in a person's lifetime. This is called an "open enrollment period." Some states extend or repeat that period beyond the federally mandated minimums, but if your client lives in a state where there is only one open enrollment period in a lifetime, the idea of a supplement and the consequences of its premium should not be overlooked.
This type of plan is a natural extension of financial planning and the other insurance products the advisor offers. The premium is easily projected coverage that's guaranteed renewable for life.
The Scrappy Contender: Medicare Advantage
OK, that's a bit of a misnomer. Medicare Advantage isn't exactly new. This year marks the 10th anniversary of Medicare Advantage in its current form, but Medicare Advantage has a history of more than 20 years in the market under different names.
Medicare Advantage plans are alternative ways to receive health care. A person in a Medicare Advantage plan is still in the Medicare program (they must continue to pay their Medicare Part B premium), but they choose to replace Medicare Parts A and B's cost-sharing with the insurance company's coinsurance and copays. The 20 percent coinsurance of Medicare Part B is still there, just broken down and transformed into more projectable costs. There is no Medicare supplement-style product that will cover leftover costs as thoroughly and completely as Medicare plus a Medicare supplement. But if you have clients with a preference for a reduced "pay-as-you-go" program, this is a way to give them what they want.
Medicare Advantage plans are the right choice for some clients. A Medicare Advantage plan typically has a monthly cost that is lower than a Medicare supplement. In some areas, there are options available at no additional cost beyond the payment of the Medicare Part B premium.
I've had financial advisors ask, "If these just change the structure of the Medicare Part B coinsurance, is there any reason to consider these plans over having nothing at all?" The answer is a definite yes. The copays on Medicare are typically a flat 20 percent with no cap on them.
Medicare Advantage gives you a schedule of costs your clients can plan for. Medicare Advantage plans also have a maximum out-of-pocket limit. This means that if the worst happens to your client's health, there is a fixed amount of cost they can prepare for. Also, many Medicare Advantage plans include prescription drug coverage, adding a level of convenience for some clients.
Medicare Advantage plans have some downsides, however. The two most critical are networks and the out-of-pocket maximum. Typically, that maximum is many times the annual premium of a Medicare supplement. If you are dealing with a client who is concerned about having many out-of-pocket costs, the Medicare Advantage plans might not be a good fit.
And a Medicare Advantage plan is networked. The two most prevalent types of plans around the country are HMO plans and PPO plans. This means that access to doctors might be a concern, depending on your client's needs and location.
Medicare Advantage plans have another consideration: change. Medicare Advantage plans alter their cost structure annually. This means that the premiums, copays, coverage, drug list and even counties where they provide service can increase, decrease or drop completely. Essentially, every Jan. 1, any client you have in a Medicare Advantage plan has a brand-new plan.
The Referee: You!
We tell our clients that we understand they really don't need us if they want to buy insurance. Just about every company will sell it to them online, over the telephone or by mail. The reason why you will get clients to buy from you is because you will do the analysis for them. A typical client does not know what they do not know about health care. And by showing the good and the bad about the choices available to them, you are doing as much to help them protect their assets as you would with any other line of product.
Source: http://www.insurancenewsnetmagazine.com/article/-med-supp-vs-ma-which-one-is-right-for-your-client-3062#.V4AWa9IrJhE
Additional Updates: