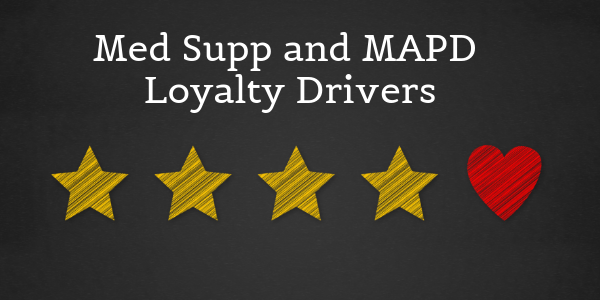 This week, clients of Deft Research will receive their 2019 Medicare Member Experience and Engagement Study. This national market research report of over 5,000 Medicare consumers illuminates the experiences that lead to better member engagement and increased loyalty. Carriers, agencies, and consultants alike benefit from understanding these drivers so that retention efforts can be deployed against the tactics most likely to succeed.
For most of the last decade, the Medicare retention paradigm read something like this: "Med Supp members are more loyal than MA members because their benefits don't change and they value unfettered access." Those "truths" held up most of the last decade with the Med Supp line of business consistently scoring higher loyalty ratings than MAPD.
But a strange thing began happening after Med Supp equaled its most dominant year over MA in 2017. Med Supp's NPS plummeted 12 points in the last two years while MA has risen by three, and leadership has flip-flopped for only the third time in 14 years.
The 2019 Medicare Member Experience and Engagement Study details the factors accounting for these trends.
Source: https://www.deftresearch.com/
Additional Updates: