MA-PD Enrollment Projected to Hit 50%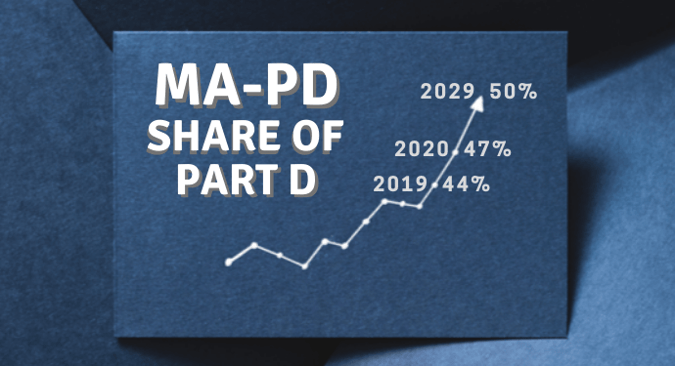 The following information is an excerpt from the 2020 annual report of the boards of trustees of the federal hospital insurance and federal supplementary medical insurance trust funds.
There are two ways that employer-sponsored plans can benefit from the Part D program. One way is the retiree drug subsidy (RDS), in which, for qualifying employer-sponsored plans, Medicare subsidizes a portion of their qualifying retiree drug expenses.
As a result of tax deduction changes, RDS program participation has declined significantly since 2012 and is assumed to decline further over the next several years. The Trustees expect that the majority of the retirees losing drug coverage through RDS plans will participate in other Part D plans.
The other way that an employer-sponsored plan can benefit from Part D is to enroll in an employer/union-only group waiver plan (EGWP) by either wrapping around an existing Part D plan or becoming a prescription drug plan itself.
The subsidies for these types of arrangements are generally calculated in the same way as for other Part D plans. The Trustees expect that such plans will offer additional benefits beyond the standard Part D benefit package.
Between 2012 and 2014, EGWP enrollment increased significantly coinciding with the decrease in RDS coverage.
In 2015 and 2016, EGWP enrollment did not change considerably because of the termination of certain EGWPs, which counteracted the continued shift from RDS plans to EGWPs.
Since 2016, steady participation increases in EGWPs have returned, with a vast majority of those increases occurring in Medicare Advantage Prescription Drug Plans (MA-PDs).
MA-PD EGWP enrollment has grown from approximately 2.0 million in 2016 to a projected 2.5 million in 2020; for Prescription Drug Plans (PDPs), onParticipation in MA-PDs has been increasing more rapidly than in PDPs every year except 2013.

In 2010, MA-PD beneficiaries accounted for 36.3% of the enrollment in Part D; this ratio grew to 44.3% in 2019 and is projected to increase to 46.9% in 2020 before reaching 50.7% by 2029.
On the other hand, the number of enrollees has hovered between 4.5 million and 4.6 million over the same time period. Future EGWP enrollment increases are projected but at a slower rate through 2025 due to a declining number of enrollees transferring from RDS plans. Beyond 2025, the Trustees assume that EGWP participation will increase at a rate similar to that for overall Part D enrollment.
This table is a summary of the estimated average enrollment in Part D, by category: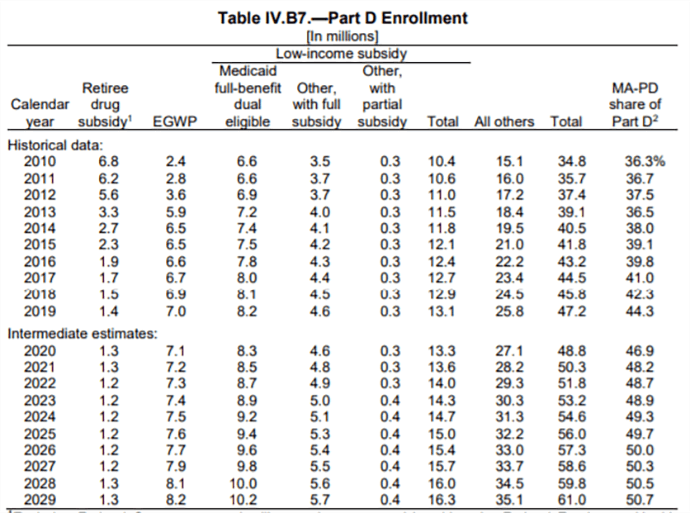 View the full report here: https://www.cms.gov/files/document/2020-medicare-trustees-report.pdf