LTC Benefits Tiptoe Into 2019
Medicare Advantage Plans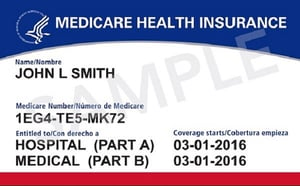 Medicare Advantage plan issuers seem to be taking a quiet, careful approach to adding home- and community-based long-term care (LTC) benefits for 2019.
About 1.5 million of the 2019 enrollees, or 7.5% of Medicare Advantage plan enrollees, may have access either to support services in the home or community, or to extra benefits designed to help enrollees cope with the burden of diabetes or other chronic conditions, according to officials at the Centers for Medicare and Medicaid Services (CMS).
But CMS officials have not given an estimate of how many enrollees might have access solely to the new home- or community-based services.
(Related: Official Gives Hints About Medicare Advantage LTC Benefits)
It's not easy to tell, for someone looking at CMS 2019 plan information or the plan issuers' own benefits summary sheets, which plans will take advantage of the new CMS chronic care and "social determinants of health" benefits flexibility.
In Arizona and California, for example, units of Anthem Inc. are openly stating that they will use the new flexibility to beef up the benefits offered by some plans.
Enrollees in certain Anthem plans will have access to what amount to LTC benefits provided for a short period of time:
Three meals delivered per day for up to 42 days.

Four four-hour shifts of in-home assistance with daily living activities, such as laundry.

40 hours of respite care for caregivers per year.

One visit per week for adult day care center services, for older adults who need supervision.

Health care appointment transportation services.
(Related: Limited Long-Term Care Insurance Model Proposals Face Resistance)
Traditionally, commercial insurers have referred to benefits for small amounts of LTC-type services with terms such as "convalescent care benefits," or "short-term care benefits."
SCAN Health Plans of Long Beach, California, says it will offer new in-home benefits through most plans in Southern California, but it's not easy to tell which new benefits will be related to the new rules.
UnitedHealth Group Inc.'s UnitedHealthcare unit says it will make telemedicine services available to 1.7 million enrollees through phones and computers, and health-related transportation services available to 1.7 million enrollees. The company is also offering a care management and care planning service for caregivers to most of its Medicare Advantage plans. It's not clear from the company's 2019 plan announcement whether those benefits are related to the new CMS rules.
Medicare Advantage Basics
Medicare is a federally funded and federally run program that serves Americans ages 65 and older, people who qualify for Social Security Disability Insurance benefits, and Americans who need kidney dialysis.
The Medicare Advantage plan program gives private health coverage providers a mechanism for providing an alternative to traditional Medicare program coverage.
The annual enrollment period for 2019 is set to start Oct. 15 and run until Dec. 7.
CMS has succeeded at keeping the Medicare Advantage market rules a lot more stable than the rules in the individual major medical market. CMS officials are predicting enrollment to increase more than 11% in the coming year, to 23 million, or 36% of the 63 million people who have Medicare benefits next year.
Another program, Medicaid, serves poor people and people who meet state Medicaid nursing home benefits eligibility requirements.
Medicaid is a program made up of state-administered plans that are funded with a combination of state and federal money.
Medicare, Medicaid and Long-Term Care
Traditionally, Medicaid has been the government health program that pays for nursing home care.
Federal rules have blocked Medicare from paying for long-term care.
Medicare has paid for skilled nursing care for people recovering from serious acute health care problems,
Medicare also paid for home health care services.
But Medicare has not paid for nursing home care for people who are in a nursing home simply because they are frail or have trouble with the activities of daily living, such as bathing or eating.
Medicare has also avoided paying for other types of in-home services, such as help with cleaning or laundry, that might help keep older people in their homes.
In May, CMS said it would change Medicare Advantage benefits rules, to give issuers ways to offer new benefits for the "social determinants of care" that might help reduce overall medical spending.
Officials suggested, for example, that, in some cases, spending a little money on transportation services or meal delivery for someone with serious health problems might be a good way to avoid spending a lot of money on hospital care.
Additional Updates: