How to Make the Perfect Follow-Up Sales Call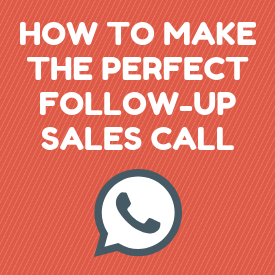 I don't know many sales people that enjoy making prospecting calls. It's definitely one of the most difficult parts of the job. There are so many things to consider. How quickly are you responding to your leads? What time and Day are you responding? How long are your average calls?
Let's take a look at some findings from recent studies to help put our finger on the key points.
The complete article from HubSpot can be found here: https://blog.hubspot.com/sales/best-times-to-connect-with-leads-infographic)
Best Days to Call:
Wednesday has shown to be the most successful day for sales calls. Thursday comes in at second place. Of course, this doesn't mean you shouldn't be calling on other days, however, you may want to be sure you are highly productive on those 2 days to take full advantage of the trend.
Best Time to Call:
The best time to call has changed over the years. Several studies found the best time to be between 4:00 PM & 5:00 PM. Another study found the best time to be between 10:00 AM & 11:00 AM. Most studies, however, agree that the worst time for successful calls is between 1:00 PM & 2:00 PM.
Response Time:
The response best time to call new leads. 5 minutes from the trigger of the event. After 5 minutes your odds drop significantly. Waiting longer than 10 minutes to respond means your odds of qualifying have dropped 400%.
Once you've responded in a timely manner it's now time to connect with a meaningful dialogue. Studies have shown that successful follow-up sales calls are almost twice as long as unsuccessful calls. Be informative and keep control of the conversation to maintain focus but don't waste your potential client's time.
Educate, be concise, and prove your value offer.
Check out the full article from HubSpot for more takeaways:
https://blog.hubspot.com/sales/best-times-to-connect-with-leads-infographic
Additional Updates:
Medicare Advantage / AEP Updates: