How to Develop Empathy with Your Prospects and Close More Sales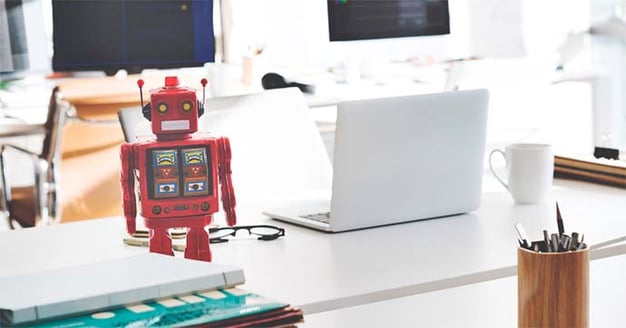 (Photo: Pexel)

The robots are coming. And they're here to take your sales job.
At least, that's what we're afraid of. It might be true that technology can be integrated into many steps of the sales process. But, thankfully, it can't do everything.
For now, there are a number of skills computers can't learn, and one of those is our human ability to create empathetic connections with prospects and customers.
This is a key ability for the modern seller. Develop empathy and you'll enjoy more effective sales conversations. More importantly, you'll build a skill set that's in demand and hard to replace with technology.
What is Empathy?
Quite simply, empathy is the ability to understand the emotional state of another person and respond appropriately. It doesn't mean you have to feel the same thing (that's sympathy).
Empathy is your capacity to sense what's going on in someone's else mind and guess at the best way to engage based on your understanding of that perspective.
How Empathy Drives Sales Conversations
At its heart, sales has always been about the interpersonal engagement between two people. We always hear about sales professionals being "people people." That's simply another way of saying they're empathetic.
When we talk about emotional intelligence, one of the most important things we're referring to is the ability to recognize, understand, and respond to the emotional state of others in an appropriate way.
Think about your sales interactions. Key steps include building trust, uncovering needs, and creating confidence. If you can't do those well you're not going to find a lot of success.
All of them are driven by sales professionals' ability to create a bridge with their prospects. By picking up on the subtle and not-so-subtle clues that our conversational partners apply, salespeople with high emotional intelligence can create stronger connections and more easily influence others.
This is especially important as sales processes get more complex and involve more people. It's critical to be able to understand the motivations and thoughts of everyone involved in the process. In a world where information is a commodity, you need to be more than a source of facts and figures.
You need to possess the ability to engage on an emotional level and become a resource for potential customers. If you want to guide them through their buying journey, it's imperative you connect on the human level.
Tips for Developing Empathy
Luckily, your emotional intelligence isn't a fixed trait. Much of your empathy is developed as you mature, but it's a muscle that can be exercised and improved. There are actually pathways in our brains called mirror neurons. They have evolved to recognize and respond to the hundreds of small, usually unnoticed, signals people give off when they interact.
Taking it a step further, as we grow up, we develop what neuroscientists call the Theory of Mind. It describes our ability to put ourselves in the place of someone else and see things from their perspective. It also allows us to understand others might have thoughts, feelings, and motivations causing them to do what they do. And it's why you can pick up on the unspoken signals of your friend and ask, "What's wrong?" before they even have to tell you they just had a bad day at work.
Building your ability to pick up on these signals, and learning how to interpret them, can pay huge dividends. And it's not complicated. You don't have to take special classes or training seminars.
In fact, your daily sales activities provide constant opportunities to build your capacity. Here are five exercises you can use to cultivate your empathetic skills.
Discover the 5 ways to develop Empathy here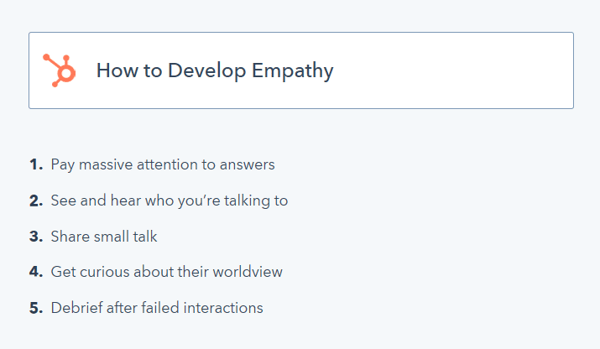 Additional Updates: