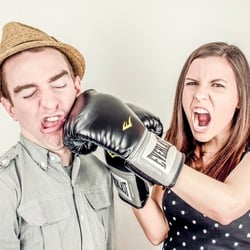 In hopes of a TKO in projected Medicare Part B premium increases for the coming year, congressional leaders and the White House have wrapped up their hands, thrown on their gloves, and forged a tentative budget agreement to go toe-to-toe with the pressing issue.
Under current law nearly 15 million Medicare beneficiaries, who do not collect Social Security and will be enrolling in Medicare's Part B next year for the first time, either have incomes great enough that they are charged higher premiums, or are poor enough that they also qualify for Medicaid, are about to be sucker punched with an increase of more than 50 percent in their standard monthly Medicare Part B premiums.
If Congress throws in the towel at the main event and agrees on the tentative budget agreement, those 15 million older Americans will face a Part B premium increase of roughly 17 percent opposed to the projected 52 percent.
"Held harmless" Medicare beneficiaries will not see an increase in their Medicare Part B premiums due to a provision of federal law that links premiums to Social Security benefits.
Also, the Part B deductible, which affects all Medicare beneficiaries, will rise to $167 rather than the $223 proposed.
To cover the cost of moderating the Medicare Part B premium increase, the U.S. Treasury will lend money to the Medicare trust fund.
To repay the loan beneficiaries will pay a $3 premium surcharge each month over about five years until 2021.
On Tuesday AARP praised the agreement and urged Congress to adopt it rather than face the brawl.
We'll keep you up-to-date with coverage on Congress's response to the open invitation.
https://www.linkedin.com/pulse/federal-health-officials-bob-and-weave-prevent-low-blow-callahan
Original source: https://www.washingtonpost.com/news/federal-eye/wp/2015/10/27/budget-deal-blunts-but-doesnt-erase-increase-in-medicare-premiums/
Source: www.washingtonpost.com

Additional Updates: