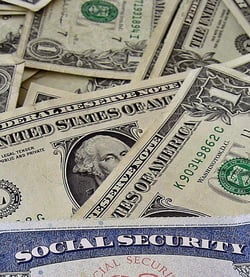 On Monday, November 2, 2015, President Obama signed into law a two-year budget deal that diverts a spike in Medicare Part B premiums, but conversely wipes out billions in potential future Social Security Disability Insurance (SSDI) program benefits for Baby Boomers.
While the Bipartisan Budget Act of 2015 has certainly granted much needed relief to nearly 15 million Medicare beneficiaries by lessening premium and deductible Part B increases, its approval has triggered an undesirable response to upcoming SSDI program changes.
Whether or not your clients will be negatively affected by the budget deal all comes down to one very important criterion: While the reforms within the budget deal are projected to save the SSDI program $168 billion over 75 years, seniors who rely upon implementing certain strategies to increase the amount they'll get from SSDI will ultimately lose if they fail to rethink their retirement plans.
So, what are those strategies to disappear in just six short months and how can your clients get through this?
Saying "goodbye" to the "file and suspend" strategy
One strategy, commonly referred to as "file and suspend", has meant an extra $10,000 to $60,000 in SSDI benefits for some married couples age 66 to 70. Under current law this strategy allows you to sign up for benefits at age 66, but not claim them. For four years those unclaimed benefits will grow at the rate of 8% per year through delayed retirement credits. In the meantime your spouse may immediately begin collecting half of your check starting at age 66. (Divorced persons may utilize the strategy if they were once married for 10 years and are currently single.)
Restricting a restricted claim of spousal benefits
Author of A Social Security Owner's Manual, Jim Blankenship, believes divorced people "will be the big losers" due to the dismissal of the "restricted application" strategy. Under current law this strategy allows you or your spouse to file just for spousal benefits at Full Retirement Age and then let his or her own retirement benefits continue to grow.
The end to the lump sum
Senior policy analyst Web Phillips of the National Committee to Preserve Social Security and Medicare (NCPSSM) says the end of the lump sum SSDI benefits is another "good deal that goes away" in 2016.
Under current law if you are diagnosed with a terminal illness at age 68 you may collect a lump sum SSDI check for the benefits you had suspended over the past two years. Under the new law this would not be the case – you could certainly begin getting retirement checks immediately, but you sure wouldn't get a check for those back payments.
What should senior couples do regarding the change?
Take a close look at your potential benefits.
Decide whether it makes sense to implement a file and suspend approach.
David Leland, a managing director of Merrill Lynch in Beverly, Massachusetts advises seniors to refrain from panicking. In the future spouses will have a choice of the larger of either their own benefit or the spousal benefit when applying for SSDI benefits. Any benefit they choose they "are stuck with", said Leland.
While your clients may have already seen headlines disclosing relief to their Medicare Part B premium and deductible (to rise by 15% opposed to the projected 52%), it is important to inform them of the above information regarding the vanishing of strategies to SSDI benefits to come. Checking up on and reaching out to your current clients to share news of this political and economic reform could be a wonderful platform for you to display your appreciation for their business. By doing so you're essentially dropping by to say, "Hey, Mrs. Smith! I thought of you when you read this and how it could affect your and Mr. Smith's financials."
A.K.A. "Hey, I really care about you!"
Want to keep up-to-date with more stories like these? Give Precision Senior Marketing's Facebook page a "Like", follow us on Twitter and request to join our LinkedIn group, titled "Senior Insurance Agents", providing a central exchange for information among insurance agents. to stay informed! :)
http://www.californiahealthline.org/articles/2015/11/3/obama-signs-twoyear-budget-deal-with-aca-medicare-provisions
http://www.forbes.com/sites/nextavenue/2015/11/02/relief-on-medicare-premiums-but-you-may-have-just-lost-a-way-to-max-social-security-benefits/print/
Sources: www.californiahealthline.com, www.forbes.com

Additional Updates: