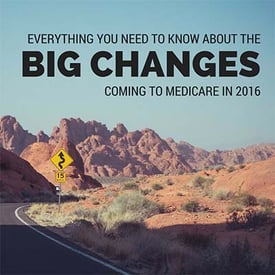 The Centers for Medicare & Medicaid Services (CMS) announced Monday Medicare is expanding a major experiment in efforts to keep seniors healthy and prevent common problems that may often lead to hospitalization.
Traditionally, Medicare pays your senior clients' bills as they come in from doctors and hospitals, but in 2016 the nation's flagship healthcare program is working to seek out better ways to balance cost, quality and accessibility by coordinating basic medical care.
With Medicare's long-term financial future in jeopardy, much is at stake. Hence, we've put together this handy, comprehensive blog to help you, as a senior market insurance professional, better understand what changes your senior clients can expect for Medicare in 2016!
Accountable Care Organizations (ACOs)
Accountable Care Organizations (ACOs) are networks of doctors and hospitals that collaborate in efforts to improve quality and lower costs for patients with chronic medical conditions.
In hopes to redefine the way medical care is delivered to those patients, ACOs have taken a more hybrid approach — emphasizing teamwork among clinicians, timely preventive services and close attention to detail regarding patients' transitions from hospital to home.
In order to receive a portion of their payment from Medicare, ACOs are critiqued upon how well they meet those goals. Measurements may include [but are not limited to] coordinating regular follow-up visits for those patients with chronic medical conditions and making sure they're keeping up with their medications as prescribed, as well as eliminating duplicate tests.
Patrick Conway, Medicare's chief medical officer, said organizations that take more responsibility for the bottom line often do better on quality, because they have a greater incentive to keep patients healthy.
Other Notable Changes Coming to Medicare in 2016
Hip and Knee Surgery
Beginning in April, 2016, hospitals in 67 metro areas and communities will be held responsible for managing the total cost for Medicare beneficiaries' most commonly noted surgical procedure: hip and knee replacements.
The experiment will cover a 90-day window — from initial doctor visit, on to surgery and later to rehabilitation.
Hospice Flexibility
Medicare beneficiaries choosing hospice benefits toward the end of their lives have traditionally had to give up most remedial care.
Under Medicare's new Care Choices model, those terminally ill patients will be granted an opportunity to receive hospice services without giving up treatment. For example, a cancer patient could continue to get chemo.
Beginning January 1, 2016, 70 hospices will start the experiment. Another 70 will join in two years.
While Medicare's overall goal is to improve quality while lowering cost, hospitals hold much worry concerning financial consequences and advocates for patients say there's a potential to skimp on care.
"What we are discovering with all this change is that trying to get to value over volume is very difficult to do," said Missouri Hospital Association's head, Herb Kuhn.
To read up on the original article, please visit: http://www.pbs.org/newshour/making-sense/big-changes-coming-to-medicare-in-2016/
Sources: www.pbs.org

Additional Updates: