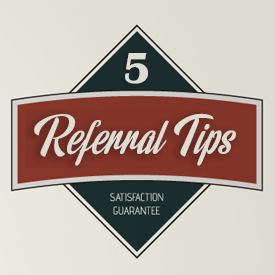 Build a Customer Referral Program With These 5 Tips
This is a great summary from a recent Hubspot article on how to create an effective customer referral program. 1 in 3 people come to a brand through a recommendation, and customers who were referred by loyal customers have a 37% higher retention rate. (Deloitte)
Word of mouth is the primary factor behind 20-50% of all purchasing decisions, especially when considering a first time buy or something relatively expensive. (McKinsey)
But what does all of this mean for you? Well, although purchasing decisions for your product or service are as complex as ever, a leading factor in your prospect's decision-making process is advocacy from their trusted sources. The question is, are you harnessing the power of your brand advocates to get these quality referrals?
There are a few quick steps you can take to building a customer referral program so you can start reaping the benefits of referral leads that, on average, are 4-10x more valuable than regular leads, resulting in shorter sales cycles, increased win rates, and larger order sizes (Influitive).
1. Find Your Advocates
Advocates, by definition, are consumers and business buyers who frequently recommend brands and products without being paid to do so (Zuberance). Those advocates should be highly trusted by your brand and/or have a substantial amount of influence over the market that you're selling to. But where do you actually get them?
2. Set a Goal
It's important to set goals for your program, even if it's brand new and you have no historical data to base it off of. A useful factor to consider could be the amount of referrals your business is getting organically. You might figure out this number by reviewing sales notes or talking to your marketing team to see how often someone mentions a referral or that they've been referred. Referrals might even be happening outside of the business all together, such as customers talking to prospects over coffee or through social media messages. If this number is non-existent or too difficult to figure out, set a relatively reasonable goal based on how many advocates you're planning to engage in the program and a conversion rate around 10% (Friendbuy).
3. Choose the Right Incentive(s)
It's common knowledge that trying to buy your brand advocates is bad news for your business. Paying advocates to promote your brand can get pricey and extremely inefficient in the long run. On top of the price tag and it's inefficiency, there's minimal trust in a paid to perform relationship where trust should really be a key factor. Instead, consider rewarding your advocates for their organic promotion of your brand.
4. Find Your Promotional Mediums
Now that you've got your advocates, your goals and your incentives all set up, it's time to decide where and how you're going to promote your program. Just like advocates are found in many different locations, so should your customer referral program. An email campaign is a great start but unless you're constantly reminding your customers (in a way that doesn't annoy them enough to stop opening your emails), then you're going to have to find a few more places to stay top of mind. Get creative and find out where your customers spend the most time or even pages they frequent for short periods of time.
5. Keep Your Tech in Check
The tech behind your program is easily overlooked or taken for granted, but it's going to make or break how you approach and manage referrals. Some key information and metrics that you should easily be able to keep track of include:
Who is referring who?

How far along in the sales process is a referral?

When did a referral become a customer (or not)?

Which of your promotional materials is working best (and worst)?

Which incentive should your advocate receive and when?
Building a customer referral program can be time consuming but if done well, the benefits are likely to far outweigh the costs. Just don't be afraid to try something new. Take charge and harness the power of your advocate community, today.
Source: https://blog.hubspot.com/customers/building-customer-referral-program
Additional Updates: