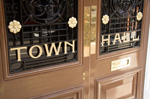 Town halls across the country have become the primary battlegrounds of the health care reform debate, with both sides engaging in heated exchanges including shouting, derogatory remarks, and even physical conflict.
Senior citizens have emerged as one of the most outspoken groups, as they are amassing in town hall meetings across the country and voicing their concerns about the impact reform will have on the current Medicare system. According to a Yahoo News article, several polls show senior citizens largely disapprove of current health care reform ideas. The article cited a July 31 Gallup Poll that found just 20% of senior citizens believe health care reform will improve their own situations.
As the highest voting demographic of the country, it appears seniors are finally being heard as President Obama addressed them directly in his own town hall meeting on Tuesday. President Obama attempted to allay those concerns by stating "We are not talking about cutting Medicare benefits." With the Obama administration cutting billions from Medicare, many seniors remain skeptical.
Supporters of reform explain that the proposed changes to Medicare would not result in a loss of care; rather it would lead to a more affordable system that makes drugs more affordable and eliminates co-pays for preventative care like cancer screenings. Obama explained that eliminating the $156 billion given to private insurance companies for Medicare Advantage would help make this possible. Reform supporters are trying to convince seniors that cutting the costs of Medicare will ensure its long-term survival.
Critics of health care reform are informing seniors that the proposed $380 billion cut to Medicare will lead to long waits, higher premiums, doctors dropping patients, and less coverage. Some critics are going to the extreme to leverage seniors' fears by explaining that reform would institute medical "death panels" that would have power to stop treatment if it became too expensive and force such patients into end-of-life options.
Obama addressed this by explaining that Medicare would simply reimburse doctors for counseling patients who choose to receive counseling on end-of-life options like hospice care. Obama also pointed out that some republican senators support this.
With the 2010 elections nearing, both sides of the health care reform issue are out in full force trying to convince seniors to vote for candidates that support their respective views. With only 20% of seniors feeling positive about reform, a lot of work remains for those in favor of it.
Sources: Yahoo News, MedPageToday, CNN