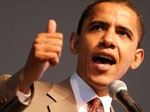 This week most of you likely watched President Obama's prime time speech on health care reform. His speech is apart of his continued attempt to gain some action on the issue. One of the overall themes of the speech was that America is doomed to fiscal disaster if the current system is not changed. He made the analogy that America "...may go the way of GM; paying more, getting less, and going broke."

A key point of his speech was that his vision allows Americans to keep the plan they have if they like it. He made some pretty brash comments regarding special interest groups who he says are using fear and misinformation to trick the American public into thinking his reform plan will socialize medicine.
President Obama also directly addressed doctors and the issues facing them. Though he didn't get into the details, he said his vision allows doctors to focus on healing rather than on paperwork, and that the system can be made much more efficient through using technology to improve information flow to doctors about what works. He received some boos when he said he doesn't support caps on malpractice awards.
A Health Insurance Exchange system was another big part of President Obama's speech. This system would mimic the current program for federal employees where they can choose from a list of insurance plans approved by the government. He strongly voiced his support that a public option be included in this system as a means of promoting competition in the marketplace. The President then spent the last part of his speech explaining how he proposes to save nearly $1 trillion to pay for his vision.
One night after President Obama's speech, Senate Majority Leader Harry Reid announced that a compromise on health care reform legislation is unlikely before the fall. This comes as a setback for the president, who has been aggressively pushing the legislative branch of government to meet an August deadline. President Obama is now reiterating his intent to sign a health care reform bill by the end of the year. Senator Reid cited Republicans as the cause of the delay, with Republicans asking for more time to work out financial issues.
Let us know what you think of President Obama's speech and the ongoing health care reform issue in our comments section.
Entry sources: ABC News, CNN