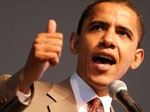 According to MedPage Today on Monday, President Obama announced an additional $313 billion in cost-cuts to help pay for his universal healthcare plan. Most of this amount will come from reducing Medicare payments to hospitals.
A White House fact sheet outlines $110 billion could be saved if Medicare payment rates were updated to reflect increases in hospital operations productivity, and an additional $106 billion could be saved by cutting subsidies to hospitals that pay for treating the uninsured – a group that the administration believes will no longer exist if universal coverage exists.
President Obama also stated in his weekly radio address that more savings could come from significantly reducing Medicare Part D. He also proposed an incentive plan that ties Medicare reimbursement to outcomes, rather than volume of services.
The grand total of cost-cutting measures now comes to $960 billion over 10 years – still short of the estimated $1.2 trillion cost of Sen. Man Baucus' plan, as well as other government plans proposed.
On a related note, the Galen Institute has a very interesting article that looks at the history of Medicare to see what is in store with a government plan. GI comes to the conclusion that "Americans will lose their private coverage and come under the government's wing. Costs will continue to soar, and health quality will decline." The article states that Medicare is now at least $37.8 trillion in the red and will run out of money in eight years.
Will history repeat itself?
Check out the article here.