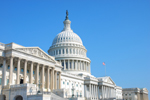 Over the past week health insurance reform has risen to the forefront of both the House and Senate. According to an Associated Press article, House Democrats are drafting health care legislation that includes a penalty fee for anyone who refuses to purchase affordable health insurance, as well as implementing a new tax on certain health insurance benefits provided by employers to cover the cost of the uninsured.
Furthermore, this preliminary legislation proposes a "health exchange" system where individuals and small businesses would be able to purchase coverage that includes a government-mandated minimum benefit. Additionally, no applicant would be rejected for pre-existing conditions, nor be charged a higher premium. On the Medicare front, House Democrats are considering further reducing payments to home health care, pharmaceutical companies, insurance companies, hospitals, and others to help cover costs of spreading insurance to everyone.
In the Senate on Tuesday, Senate Democrats led by Senator Christopher Dodd (D-Connecticut) proposed a comprehensive bill that signaled the start of a battle for determining if America adopts universal coverage, according to CNN. The main issue that will be argued here is whether a "government-run option" would put current insurance companies at a competitive disadvantage. To address the concerns of Republicans, the proposal maintains the ability of Americans to choose their coverage and doctors.
President Obama has asked Congress to send him a health care bill to sign by October. He continues to insist on a government-run option, saying it would help consumers and keep costs down. Today, Obama will increase his presence on the issue by discussing it at a town hall meeting in Green Bay, Wisconsin. With all the ideas floating around Washington D.C. these days, it looks like our government officials will have to work overtime to meet Obama's deadline.