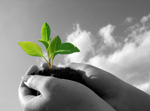 In the June 2009 issue of Senior Market Advisor, the magazine has a special feature entitled "100 Best Sales and Marketing Ideas." The ideas are all generated by producers such as yourself, so most of the ideas are probably applicable to your situation. If you go through all 100 ideas, you will see that they all can be summed up into 5 methods that can successfully grow your business.
1. Networking: The vast majority of the ideas are related to networking, most likely because this is the most effective method of growing your business. Hosting workshops, seminars, church meetings, and other events were said to be a great method of reaching large groups of new customers. Getting to know and partnering with other professionals in related fields, such as CPAs, lawyers, doctors, and so forth is another effective method for getting in touch with potential customers.
2. New Technology: With more and more seniors and baby-boomers utilizing the latest technology, many of the respondents suggested that having a Web site is a must, but that to really succeed, you need to implement SEO to be found on the search engines, as well as market your business through major networking sites LinkedIn and Facebook. Also be on the lookout for Internet applications that can streamline your business process such as salesforce.com.
3. Old Technology: As great as all the new technology is, it alone does not make a successful business. Some of the agents state that nothing is more effective at generating business than picking up the phone and calling (we entirely support this argument). Direct mail programs are also still said to be very effective at generating leads, as the majority of the senior market still isn't online. Additionally, faxing is still a quick, simple way for transmitting certain types of documents, especially those requiring written signatures.
4. Relationship Management: Many of the ideas mentioned were related to managing the relationships you have with existing customers. This is vital, as retaining customers costs five times less than acquiring new customers (quality management principle). Basically, you should call your customers at regular intervals to see how they are doing and to educate them on new products. Being a good listener was an idea that came up in the feature several times. There was also a common theme of treating potential clients like existing ones. Even if they don't want your business, they most likely know someone who does.
5. Education: Many of the respondents stressed the importance of continuing education, both formal and informal. We agree as one of the fastest ways to lose business is to pretend to know something you don't. Knowing the latest trends in products, technology, market trends, and so forth is an essential ingredient to success. Establishing yourself as an expert source in your network or community can generate many leads by itself. Another common theme was that sharing knowledge freely without asking for anything in return adds to the credibility of your business.
If you have the time, we recommend reading the feature. Though most of the ideas are techniques you already know, you may just find one or two new nuggets of knowledge that can spark the next great idea for your business.