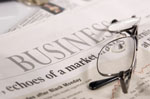 This week I'd like to give all of you a summary of various news articles that have been published in the month of March thus far. Such information can make good talking points with your clients, or be good ice-breakers for those cold calls.
Hospital prices increase: According to the Bureau of Labor Statistics, hospital prices once again increased in February by 0.9%. This followed a January price increase of 0.8%. The physician index climbed 3.2% for the 12-month period ended in February compared with 2.1% in the prior year period.
Americans skimp on healthcare: According to a Deloitte Consulting survey, 25% of Americans skip care when they are sick or injured, and 40% give the healthcare system a failing or barely passing grade. 94% said healthcare costs threaten their financial security, regardless of their insurance coverage or health status. 50% of uninsured said insurance was too expensive for them to purchase and 73% said they are confused about how the healthcare system works. The survey was conducted in October 2008 through a web-based survey of 4,000 adults.
No more pre-existing conditions?: On Tuesday, Sen. Jay Rockefeller, D-W.Va., and Rep. Joe Courtney, D-Conn., introduced the "Pre-existing Condition Patient Protection Act" Tuesday calling for the elimination of pre-existing condition exclusions from health insurance policies. Two conditions exampled are diabetes and heart disease. This bill is part of President Obama's agenda for health care reform.
Credit losses mount for life and health insurers: According to MarketWatch, life and health insurers are in need of more capital as credit losses are growing and equity markets are slumping. Signs indicate that credit losses will reach 3.4 times the current excess capital of the sector on average, including extra capital that will be generated this year and in 2010.
Retirement assets fall in value: According to a report released by the Spectrum Group, retirement market assets plunged 24%. The value of defined contribution and defined benefit plans decreased from $10.3 trillion in 2007 to $7.86 trillion in 2008.