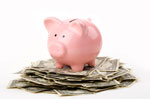 Like pork, annuities have long been misunderstood by the public and have stood in the shadow of a more prominent retirement product – mutual funds (think chicken). However, the combination of a frail stock market, a severe recession, and millions of Americans nearing or entering retirement has created a new focus on creating guaranteed retirement income.
Make no mistake, annuities are more difficult to fully understand than most other traditional insurance products and involve higher fees, however, the benefits often offset the higher barrier to entry. In the short term, consumers holding annuities see little to no loss during stock market downturns, especially if they have a safety rider. Over the long term, they can have a guaranteed income stream in retirement that can be life saving. Depending on the specific product, annuities can be withdrawn without penalty in certain circumstances, such as for medical emergencies or urgent need for nursing home care. Additionally, other annuity products can pay out benefits to a holders' beneficiary upon death similar to a final expense product.
Due to the complexity of annuities, it's best to contract with an organization whose sole focus is on annuities. For this reason, we have partnered with The Annuity Shoppe to offer contracting for annuities. With more than 60 years of combined staff experience in the industry, The Annuity Shoppe continues to successfully provide agents with everything they need to be successful in the annuities market.
As we've said before, enhancing the diversity of your portfolio is crucial to business development. Adding annuities to your portfolio may seem like it may fall outside the scope of your business, but you may be surprised at how complementary a product it can be upon further research. With more and more risk-adverse consumers (which probably describes the vast majority of your clients in these times) inquiring about this increasingly popular product, your time would be well spent exploring the possibility of offering annuities to your clients.