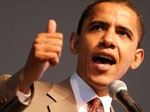 On February 26, 2009 President Barack Obama announced his administration's guiding principles on overhauling the way healthcare in America is provided and funded. As a first step toward its ultimate goal of universal healthcare coverage, the Obama administration's first budget will cut $316 billion from Medicare over 10 years to help pay for a new $634 billion healthcare reserve fund that will be used to revamp the current system.
The real shocker for the Medicare Advantage industry came with the announcement that the majority of the $316 billion reduction will come from reducing payments to Medicare Advantage and the introduction of a competitive bidding process. This bidding process alone is estimated to save the government $176 billion over 10 years. Soon after the announcement, Medicare stocks sank, with the Morgan Stanley Health Care Payors Index declining by more than 10%. Healthcare provider and manufacturer indexes were down 6.7% and 4.4% respectively, according to modernhealthcare.com.
In the first month of 2009, over 200 Medicare Advantage providers increased their premiums by 13% on average, which is more than five times 2008 increases, according to Avalere Health, Bloomberg/Philadelphia Inquirer reports. This increase was in anticipation of last Thursday's announcement, so it will be interesting to see how much further Medicare Advantage premiums will increase with the market's more dire outlook.
So what does this mean for you and your clients? At this point, it's anyone's guess, but for us it's a reaffirmation of the need to have a diverse portfolio that includes a range of products spearheaded by Medicare Supplement products. Presumably, as Medicare Advantage premiums increase, your clients will want to explore alternatives, so make sure you can offer those alternatives or risk losing them. We'll keep you updated on continuing, major developments.