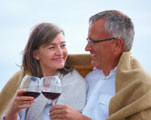 March 1, 2009 sees the release of a very attractive Medicare Supplement product by Woodmen of the World and the Assured Life Association in 10 states. Over the next several months we will be heavily marketing this product to agents nationwide to ensure they are aware of this great opportunity to write new business.
In addition to the appealing agent benefits this product offers (click here for details), it also provides numerous fraternal benefits that add significant value for its target customers. Despite fierce competition in the market, Woodmen of the World and the Assured Life Association have impressively differentiated its Medicare Supplement product to make it a worthy addition to your product portfolio, and is why we are staunchly supporting it. Here is a summary of the key fraternal benefits you are going to want to discuss with your clients should you decide to offer it:
Educational Benefits: Members and their family may be eligible to receive a variety of academic scholarships for both short-term and long-term education. They can also access an education Web site where they can find information on how to successfully enter a college or university.
Health & Security Benefits: Woodmen of the World and the Assured Life Association has partnered with numerous companies to offer its members discounts on a variety of health and security services. Members have three options that range from $9.85 per month to $14.35 per month on healthcare discount packages. Members also receive discounts on a personal response service, medical information storage and forwarding services, prescription drugs, and Medic Alert.
Life Benefits: Members have access to special life insurance products that include assistance to orphaned children, newborn child protection benefit, and estate planning.
Travel Benefits: Members can save up to 10% every time they rent a car through Hertz both domestically and abroad. Discounts on vacation packages to over 180 destinations are also available through Collette Vacations
As always if you have any questions or just want more information, feel free to contact us at any time.