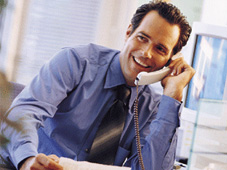 Everything that happens after your customer says "yes" is what separates sales leaders from the rest of the pack. In many cases a salesperson will work for weeks or months to secure a piece of business Then the real work begins: delivering on your promises. You can be awesome in sales, and you can be a great closer, but it is far more difficult to get repeat business and referrals if you don't excel in the art of follow-up.
Five Critical Elements of Follow-Up
Be a finisher; take steps to ensure that the installation of your solution is completed successfully, down to the last detail. For some reason, average salespeople tend to slack off once the order is received, while great salespeople actually redouble their efforts. It is critical to ensure that your customers get exactly what they agreed to, and that you deliver on everything you promised. Make sure things happen exactly how and when you said they would! The pay-off is enormous when customers observe that you are someone who takes care of business, which, frankly, many salespeople don't do.

Don't run and hide; make sure you are accessible during delivery and implementation. Future sales are often sacrificed because the delivery of a product/service is rife with minor issues (including poor communication) that erode the trust you have worked so hard to develop. This can largely be avoided by overseeing the process and being proactive in communicating with the customer. After a sale is made, poor salespeople take longer to return calls, answer questions, and deal with issues, which – from the customers' perspective – is tantamount to saying, "All I really care about is my commission." Never fail to be visible and to communicate proactively.

Stand up and be counted; take ownership of any problems that arise. Once a sale is made, salespeople can easily be intimidated by customer complaints. No one likes confrontation or conflict, but when issues surface, great salespeople see an opportunity to validate the customer's decision to buy from them rather than a competitor. Poor salespeople, however, pass the blame to others – the shipping department or accounting, for example – and fail to take responsibility for solving the problem. The result is a significant loss of credibility in the eyes of the customer. Remember, to the customer, YOU are the company. If you fail to take responsibility, handle the problem, and ensure the customer is satisfied, you substantially jeopardize future opportunities.

Be grateful; never, EVER forget the two most important words you know: "Thank you." Gratitude is an extremely powerful emotion – for both the giver and the receiver. Tell customers you appreciate them. Thank them for the opportunity to contribute to their successes. There is absolutely no downside, and there is considerable upside. They feel good. You feel good. The relationship is strengthened. Since it requires very little effort, and costs absolutely nothing, it is simply inexcusable to fail to thank a customer for doing business with you.
Become invaluable; begin the personal marketing process. Great salespeople sell much more than a product or service; they sell themselves. To do that, they look for ways to benefit the customer beyond the products or services they provide. They create connections and deliver resources that provide additional value to the customer. This process is called "personal marketing" – the practice of reinforcing your personal brand and elevating your value to the customer. Connect your customers to other key contacts in your network. Seek out information that customers find useful and then deliver it. As opportunities arise introduce new ideas, and new product or service applications, into your customer's business. Having done well in the first four elements of follow-up, becoming a resource to your customer is the icing on the cake.
http://www.asalesguy.com/2014/07/25/the-subtle-art-of-follow-up/
Source: asalesguy.com
Additional Updates: