Despite concerns that payment changes enacted in the Affordable Care Act of 2010 would lead to reductions in Medicare Advantage enrollment, the number and share of Medicare beneficiaries enrolling in Medicare Advantage plans has continued to climb. Since the enactment of the ACA, Medicare Advantage enrollment has increased by 4.6 million, or by 41 percent.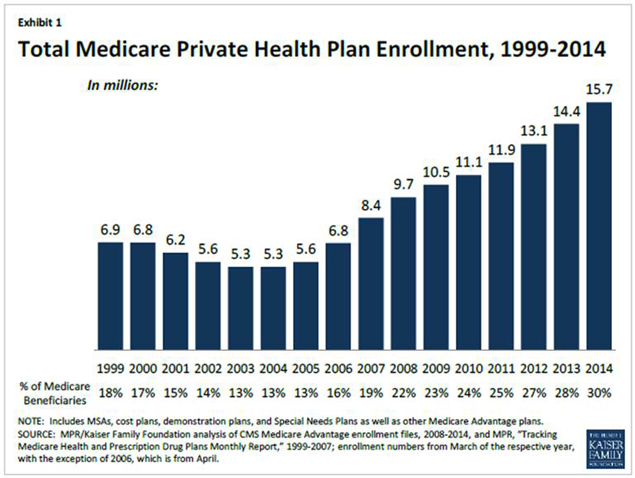 As of March of 2014, 30 percent of people on Medicare (15.7 million beneficiaries) were enrolled in a Medicare Advantage plan, a 10-percent increase since March 2013. Most of the enrollment growth since 2013 has been in the individual market, but group enrollment in Medicare Advantage plans accounted for almost one-third (32%) of the enrollment growth in 2014 and has been a major factor in the experience of some firms.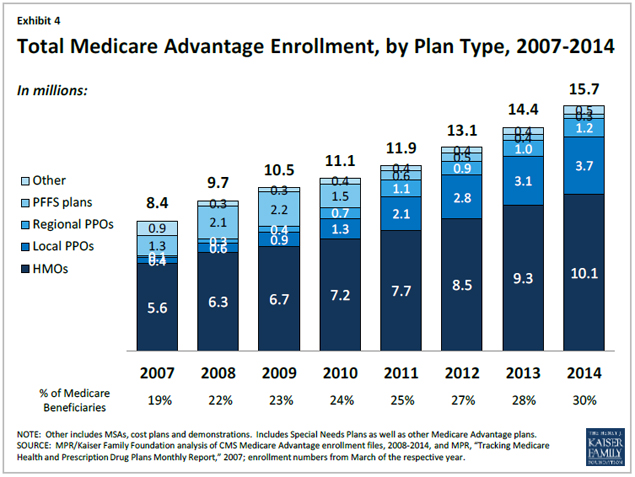 Medicare Advantage enrollment continues to grow … ultimately the form of both the overall Medicare program and Medicare Advantage will be shaped by the policy and fiscal climate.
READ the Research/VIEW the Graphs:
http://kff.org/medicare/issue-brief/medicare-advantage-2014-spotlight-enrollment-market-update/
Source: kff.org
Additional Updates: