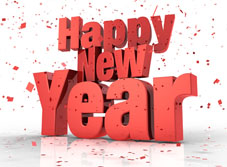 Happy New Years from Precision Senior Marketing; It is that time of year to start off with a clean slate.

If you have not already done so, take the time to reflect on 2013 and take note of the hurdles and successes that made the business year memorable.

Make this the perfect time set new goals. Look at the BIG picture, be considerate and write down what is important to you, what you want to achieve, and the timeframe you want to achieve the goal(s).

Most importantly, if you want to succeed, focus and follow through.



Below are Five Golden Rules to Set Yourself Up for Success:

1. Set Goals as Motivators

Motivation is key to the success of reaching your goals. The goals you set should be important and in high value to you. If you set goals that are irrelevant to or of little interest, chances are there will be little or no devotion to achieving your goals.

To maximize your success for goal setting, make sure you write the reason why it's valuable and important to you.

2. Set SMART Goals


"SMART goals" are powerful goals; these goals designed to be Specific, Measurable, Attainable, Relevant, and Time Bound.

Specific Goals
Make your goals clear and well defined. Avoid any vague or generalized goal setting that provide insufficient direction. Your goals should pave the way and make it as easy from point A to point B.

Measurable Goals
Define precise amounts and descriptive measures. This includes, cost, quantity, dates, and so on. This is very helpful in keeping measure of your goals and degree of success.

Attainable Goals
Goals should fall within the objective and be attainable within the organization members and influence. Resist setting goals to impossible, this may hinder confidence, or too easy to attain.

Remember, set challenging yet attainable goals that gives a sense of accomplishment and satisfaction, allowing you to "raise the bar" within the organization.

Relevant Goals
Make sure these goals are in-line with your life and career objectives. By keeping them aligned you'll be more focus to get ahead and do the things that you want.

Time-Bound Goals
Time driven goals should have a specific completion date or specific action date to go to the next phase of the goal. Incorporate dates, milestones and timeframes that are relevant to the ultimate goal. By following through, the overall achievement will come much sooner.


3. Write down your Goals.

Physically write down your goals. The simple act of writing makes your goals more real and it subconsciously makes it a high priority job that needs attention and tending. When writing use words that express, empowerment, desire, willingness and gives you no room for slacking or derailing from your ultimate goals. For example, "I will increase and convert my leads to sales by 40% this year," rather then, "I would like to" or "I may."

Once you have the goals written, post them in a visible place where you can be constantly reminded of what is intended to do. Keep the visual on a wall, desk, a screensaver, anywhere it can be a constant reminder.

4. Create an Action Plan.

Actions plans are your smaller steps or smaller goals the lead to the ultimate goal. Think of them as the steps of a ladder. By writing down a series of steps and crossing those out as you reach your action goals; you'll get a better visual progression of your hard work and efforts.

5. Follow through!
It can't be over emphasized, follow through the entire course. Set reminders and check periodically to see where you stand in relation to your goals. Review your goals and make the necessary adjustments to stay on course. Don't get stressed burning your energy on the outcome. Instead focus on the smaller steps (action plan) that will get you to all the way to your final goal.

Remember, without goals, there is no plan…there is no focus...there is no purpose to succeed.



Please give us your feedback!
Question:Do you feel the SMART Goal steps may help your organization layout a better goal plan for 2014, if so, let us know if the full list or partial section will be utilize?



Source: Mindtools