In 2013, there are currently 14.4 million Medicare beneficiaries enrolled in Medicare Advantage. This is an increase of more than one million (9.7%) from 2012 and sets a record high for enrollees. Even though there were concerns that payment changes from the Affordable Care Act of 2010 (ACA) would lead to fewer enrollments, it has seen an increase of 30% since 2010. About 28% of Medicare beneficiaries are enrolled in Medicare Advantage plans today and there is very little evidence of an adverse effect on enrollment in low versus high cost counties as a result of payment rate change in the ACA.

Don't overlook the importance of adding a competitive Hospital Indemnity Plan to your senior care portfolio.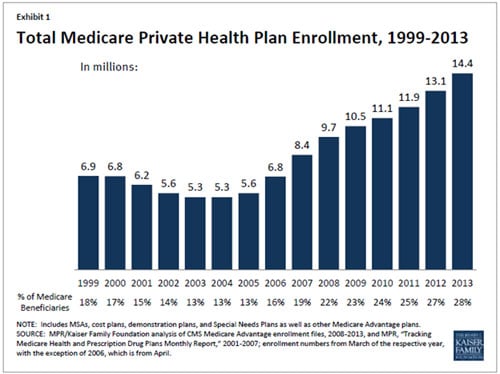 This growth is a continuation of the rapid growth in enrollment that occurred at the same time as the introduction of Part D in 2006. Also, the implementation of other changes to the Medicare Advantage program authorized by the Medicare Prescription Drug, Improvement and Modernization Act (MMA) of 2003. This growth has happened despite the fact that the average number of plans available to enrollees nationwide declined from a high of 48 plans in 2009 to only 20 plans in 2012 and 2013.

With the Annual Enrollment period coming up, be sure to check out our Medicare Advantage product portfolio to make sure you have the best company rates in your area. If you have any questions about the products we offer or the Medicare Advantage market, please call our marketers at 1-800-998-7715.
Please give us your feedback!
Have you seen an increase in your Medicare Advantage business? Does this news make you want to add Medicare Advantage to your senior market portfolio?
Source: KHN
Additional Updates:
AK, CO, DC, and NJ Agents: There's a New Med Supp in Town - Learn More
PA Agents: The Next Big Med Supp - Learn More