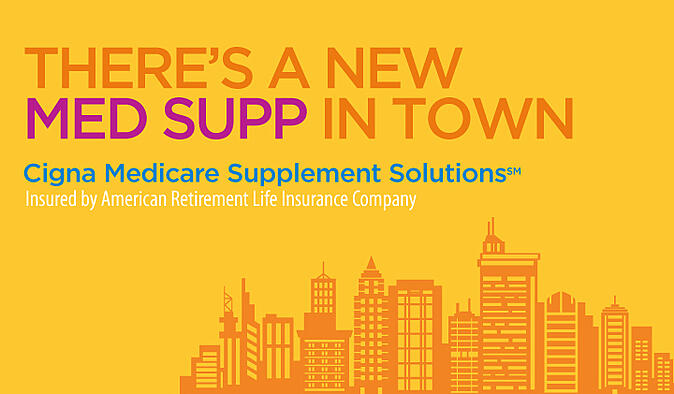 Cigna Medicare Supplement Solutions / ARLIC Medicare Supplement is now available in Alabama, Iowa, New Mexico, Oklahoma and South Dakota with more states coming soon!
If you are not appointed to offer this competitive product, request information now.

Cigna is one of the biggest names in the insurance industry and is releasing a new Medicare Supplement in the following states: Alabama, Colorado, Iowa, Illinois, Indiana, Kansas, Kentucky, Louisiana, Mississippi, Montana, Nebraska, Nevada, New Mexico, North Carolina, North Dakota, Ohio, Oklahoma, Pennsylvania, South Carolina, Tennessee, Texas, Utah, Virginia, West Virginia, and Wyoming.

The Cigna Medicare Supplement is insured by the American Retirement Life Insurance Company, with competitive rates nationwide.

When you become appointed with Cigna Supplement Benefits and take advantage of competitive rates, high commissions, online contracting, paperless application with no we signature required, clean cases are issued in 2-4 days, and daily advances available.

Approved States:

Alabama - Application (AL) / Outline of Coverage(AL)

Iowa - Application (IA) / Outline of Coverage (IA)

New Mexico - Application (NM) / Outline of Coverage (NM)

Oklahoma - Application (OK) / Outline of Coverage (OK)

South Dakota - Application (SD) / Outline of Coverage (SD)

All States:
ARLIC Declinable Drug List / ARLIC Agent Guide

Stay tuned for upcoming releases in CO, KY, LA, MS, MT, NE, NV, SC, WV & UT.

Take advantage of this tremendous opportunity and add the new ARLIC Medicare Supplement to your portfolio today.



Request Information
Additional Updates:
New Medicare Supplement from Cigna - Learn More
Commission Increase with Combined Insurance - Learn More