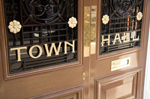 The usual story is someone leaving a small town for more opportunities in a big city. However with big cities comes more competition, and the urban lifestyle is not for everyone. Many people prefer to stay in the town where they grew up, close to their family and friends, or others relocate from a larger city for the advantages of small town life.

If you grew up in the town, starting your business will be the time to establish your move up the social ladder. If you've just arrived, seek out and get to know other people in town to learn the lay of the land. If they're newer to the town, ask them how they got integrated and decide if those methods would also work for you as you set up your business. If they're one of the "good ole boys", get to know them well and have them show you around and introduce you to the right people.

The key to success in a small town is getting involved in the community. Joining a country club can be very beneficial to developing business relationships while earning other members' trust as friends and business associates. If you are religious, being active in your denomination's community is great for networking. Also, you can volunteer for the museum or library's fund-raising events and the yearly town festivals. Many small towns also have a rotary club or chamber of commerce looking for members to get involved in the community. Make a goal to meet 6 new people at every meeting you attend while catching up with those you already know.

Grassroots networking is ideal in a small town, where people inevitably ask what you do and know someone who can benefit from your service. Also, seniors in a small town would generally prefer a face-to-face meeting; buying from someone local who they know they can count on. The more exposure you get the more people will know your name and think of you when they become eligible for Medicare or want to switch plans. Word of mouth travels fast in a small town, and with the right networking, referrals will soon come pouring in.

If you are already established in your career in a small town and feel you've exhausted the members of the community needing your services, expanding your territory by selling Medicare Supplements over the phone might be the next step in growing your business. You can prospect by phone to other areas, rejuvenating your business while you continue to be active with your clients in your local community.
Please give us your feedback!
Do you have a business in a small town? How did you integrate yourself into the community as a business professional? Do you have any additional tips to help those just starting out?
Source: InsuranceNewsNet
Additional Updates:
Forethought Medicare Supplement Approved in Pennsylvaina - Learn More
New from Forethought: Track your business online - Learn More