As part of the new health care reform law that went into effect January 1st, a Medical Loss Ratio (MLR) was instituted stating insurance companies must spend at least 80% of premiums on medical expenses in the under-age market, with the remaining 20% being shared with administrative costs. These new health reform rules will cut insurance brokers' pay by 50% in some cases, effecting nearly 470,000 under-age market agents. Reports show commissions will drop from 15 to 20% on plans to 4 to 10%; and, for Blue Cross which used to pay 15% on the first year and 7% on residuals the following years will now pay 5% for both. Meanwhile, Golden Rule, owned by UnitedHealthCare is offering their brokers a per application bonus, understanding the cuts in commissions. By 2014, even without the MLR regulations, consumers will be able to find and obtain health insurance plans easily on their own. Under new health care regulations insurance agents, negotiating rates for those with pre-existing conditions, will be unnecessary. Health insurance companies will no longer be able to deny coverage based on conditions; therefore, making under-age insurance agent less and less vital for sales. Also in 2014, almost 32 million Americans will have insurance under the health care laws and MLR will negatively impact the way the public uses health care, with potential job loss due to lower commissions at a time when consumers need the most help because of all the changes. Critics argue smaller companies may go out of business, agents will see more cuts in compensation, and there will be reduced service quality to the consumer. Supporters say that industries are always changing and compare the change in the insurance industry to that of travel agents. Even though a lot of people buy their travel arrangements unassisted online there is still need for a travel agent. Now under-age insurance agents will just have to find their niche in the new insurance environment.
If you also work in the under-age market, have these lower commissions already affected you? Do you believe the result of MLR will be a drastic decline in service or do you think things will level off quickly, like with the travel industry?
Low Clearance by Mike Keefe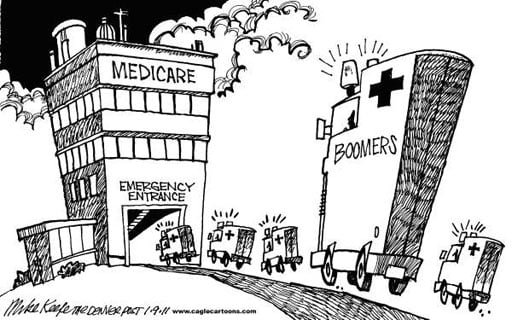 By Mike Keefe for The Denver Post, 01/06/11

With the Baby Boomer generation turning 65 this year and nearly 10,000 American's a day qualifying for Medicare benefits- now is a great time to be a senior market agent selling Medicare Supplements.
Has the influx of Boomers helped your Medicare Supplement business? How are you preparing for the boost in those interested in Medicare Supplements?
Medicare "Wellness Visit" Check List
As of the first of 2011 Medicare beneficiaries are able to go to one "wellness visit" a year completely covered by Medicare. This new part of the health care law reflects that medicine needs to focus on prevention rather than waiting until the patient is sick. Dr. Eddie Phillips, director of the Institute of Lifestyle Medicine at Spaulding Rehabilitation Hospital, has outlined what patients can expect at their wellness visit this year. First, the doctor will conduct a screening of a patient's cognitive skills, depression, and risk of falling. They will develop a Personalized Prevention Plan talking about your diet, exercise, vaccinations, sleep, and stress; and, work to coordinate all of you caregivers. Also, you can choose to have a voluntary discussion of your end-of-life choices, getting a plan in place and having your wishes known. Dr. Phillips hopes this wellness visit will help people make lifestyle choices that will positively affect their health and health care costs.
What do you think of the new "wellness visit" provided by Medicare? Have either you or one of your clients partaken of yours this year? Was it a valuable benefit?
Foresters Prepared Accident Death Term Life Insurance
Foresters Prepared offers up to $300,000 in coverage with no medical exam and only a few health/lifestyle questions. It also offers extra-cost riders for disability income (accident only), waiver of premium (accident only) and return of premium. Contact PSM or call us 1-800-998-7715 to request information.
Woodmen of the World/Assured Life MADP Guidelines and Iowa Rate Increase Notification
New Medicare Advantage Disenrollment Period (MADP): MA members are allowed to make one change during this period of January 1, 2011 to February 14, 2011 with an effective date of disenrollment after January 1, 2011.

Effective March 1, 2011 please see the rate increase notification for Iowa.

Sources: KHN, Politico, The Denver Post, CommonHealth