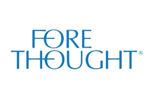 On August 23, 2010 Forethought Financial Group announced its new Medicare supplement product will be available this fall in eleven states, including Illinois, Iowa, Indiana, Louisiana, North Carolina, Ohio, Oklahoma, Pennsylvania, South Carolina, Texas, and Virginia. The Forethought Medicare Supplement (Medigap) comes at a very good time when millions of baby boomers are now turning 65 and becoming eligible for Medicare. These newly minted seniors will be seeking Medicare supplement products from companies such as Forethought that offer competitive premiums, an excellent financial strength rating, and highly regarded customer service. The Forethought Medigap offers all of the aforementioned and more.
Precision Senior Marketing (PSM), a full-service, national insurance marketing organization, is an exclusive distributor of the Forethought Medicare supplement, and is currently offering direct contracts to independent senior insurance agents who wish to add the Forethought Medigap product to their portfolios. PSM experienced tremendous success last year with the release of several new Medicare supplement products. Exploding demand for these Medigap products exceeded the expectations of the carriers, requiring them to hire additional staff. PSM expects the same level of demand and success for the release of the Forethought Medicare supplement.
In addition to offering a new Medicare supplement product, Forethought is also offering a new final expense. The two new products will be a part of a "combo-app" process whereby agents can sign up consumers for both products in one application. This combo-app will simplify and speed-up the application process for independent senior insurance agents. The new Forethought final expense product offers superior features compared to competing final expense products, and even Forethought's older final expense product. For more information about either product, agents are encouraged to contact Precision Senior Marketing at 1-800-998-7715 or at info@psmbrokerage.com.
Forethought Financial Group has serviced more than 2 million policyholders since its humble beginnings in 1985. Forethought's financial strength stems from the fact that it has over $4 billion in assets, more than $5.6 billion of life insurance and annuity business in force, and nearly $1 billion in annual revenue. Unlike many other companies during this Great Recession, Forethought continues to grow and prosper. And though the Forethought Medicare supplement is released in ten states initially, the company expects to expand its offering to other states, as the company is licensed to sell in 49 states, the District of Columbia, and Puerto Rico.