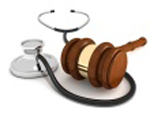 On Thursday, President Obama signed a bill that mandates federal departments and agencies to reduce misspending. In fiscal year 2009, the federal government doled out nearly $110 billion in improper payments, mostly due to Medicare and Medicaid fraud. The Improper Payments Elimination and Recovery Act also stipulates agencies to invest at least $1 million in audits to identify likely overpayments, and to create processes to reduce such improper payments and establish penalties for government organizations that fail to comply with the new law.
Denials of Insurance Claims Easier to Fight
The Obama administration issued new rules regarding health care reform. The new rules guarantee the right for all Americans to appeal denials of insurance claims, first with their insurance company, and then to a third-party review board if required. Many states already have similar laws in place, however the rules differ greatly. Now the rules will be standard across the United States. The new rules aim to empower consumers when appealing insurance claims that are denied. America's Health Insurance Plans (AHIP) spokesman Robert Zirkelbach said that his organization supports the standardization of the appeals process. The Obama administration is also providing $30 million in grants to improve state consumer assistance offices. States have until July 2011 to comply.
$251 Million Medicare Fraud Ring in 5 Cities Busted
Last Friday, Federal law enforcement officials announced the arrests of dozens of suspects in five states for defrauding Medicare of $251 million. The suspects, including several doctors and nurses, were apprehended in Miami, New York, Detroit, Houston, and Baton Rouge. 94 suspects were indicted, with 36 being arrested for billing Medicare for unnecessary equipment, and H.I.V and physical therapy treatments that were never conducted. The New York Times reported that violent criminals and mobster were getting into the action, as they viewed Medicare fraud as more lucrative and less risky than dealing drugs and fire arms.
Part D Increases Use of Heart Failure Medication
Reuters reported on a recent study of 7,000 older heart failure patients in one large insurance plan released by the American Heart Journal. The study found that the number of filled prescriptions for heart failure drugs soared after Part D took effect in 2006. Low-income seniors who never had previous drug coverage saw the biggest increase in filled prescriptions. Reuters states that the findings, among other cited in the article, substantiate arguments the goal of the law is being met.